Many reputable contractors, investors, and businesses operating in the water industry and technical infrastructure in Vietnam said that Euro Green Plastics Co., Ltd (EUROPIPE) deserves to be the leading plastic pipe brand in Vietnam. Mr. Nguyen Van Vinh, General Director of EUROPIPE also shared this story.

European Green Plastics Co., Ltd (EUROPIPE) may think that it is a European company that produces or distributes plastic products, but it is actually a Vietnamese enterprise, 100% pure Vietnamese. What does the name European Green Plastic mean, sir?
Thank you for the interesting question. Not only you, but many people also ask us whether European Green Plastic (or EUROPIPE) is a European company.

We affirm that Euro Green Plastic is a 100% Vietnamese manufacturing company of plastic pipes and accessories. The name "Green Europe" here has two sides that need to be explained specifically.
The first is "Europe". From the very beginning, we positioned the EUROPIPE brand to meet European standards. For that reason, our equipment and machinery are 100% imported from Europe. At the same time, we use foreign experts to supervise the production of products also from Europe.
The second is "Green". Green here means that our products are technology transferred by German experts according to Germany's "Green – Green" standard. This is also EUROPIPE's strategy towards environmentally friendly products. We manufacture plastic pipes and accessories to ensure safety and hygiene, very assured to use for water supply projects. 100% of input materials are primary materials imported from UAE and Nordic countries.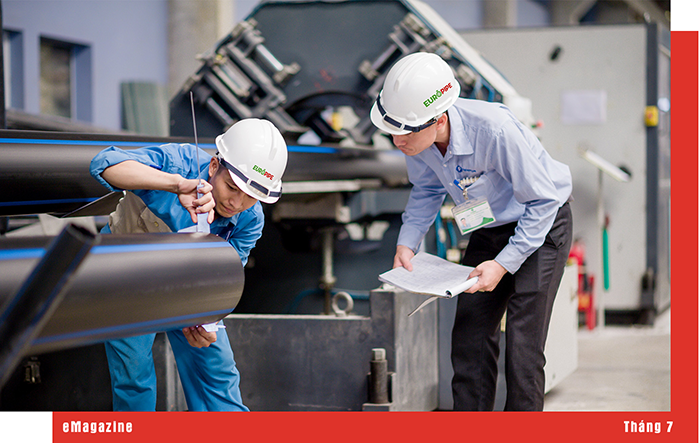 He has just shared about machinery imported CBU from Europe and green technology also from Europe, specifically Germany. So with such modern technology and equipment, how is the production capacity of EUROPIPE today, sir?
The largest scale EUROPIPE factory in Vietnam. Our factory is a 100% automated factory with more than 3,000 different product codes. Annually, the company's total output reaches more than 1,000 billion VND.

With such modern technology, the product quality must also be of European level?
Recently, several experts and newspapers rated EUROPIPE as the leading brand of plastic pipes and fittings in terms of quality. We are really proud and grateful to be evaluated like this by experts and partners.
Compared to other brands born at the same time, we are number 1 both in terms of revenue growth and participating in the largest and most advanced projects across the country.
In terms of quality, EUROPIPE is the only company with a warranty of up to 30 years, product durability of up to hundreds of years, which affirms our confidence as well as our commitment to quality to customers.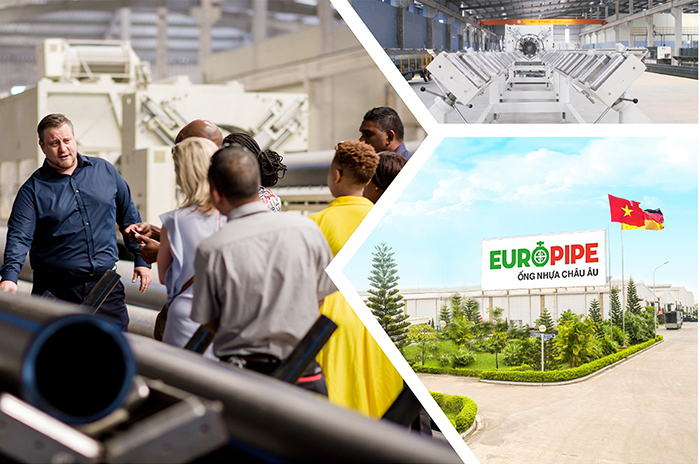 Regarding products, we are one of three factories in Vietnam that can produce a wide range of pipes and fittings up to 1,200mm in diameter.
Regarding services, EUROPIPE always ensures the fastest, most complete, and accurate delivery schedule, so it is highly trusted by major domestic and international partners.
Regarding the after-sales service, we not only sell but also focus on customer care such as sending leading experts from Europe to train guide welding, and installation to ensure absolute quality. for investor projects. We always consider customers' projects and works as our own so that we are responsible to the end for our quality and services.
Regarding customers, we are proud to constantly be present in the biggest projects of Vietnam such as Ocean Park; Van Don International Airport (Quang Ninh); large water supply projects of clean water supply companies such as Hue Clean Water, Quang Ninh Clean Water, Song Duong Clean Water, Hanoi Clean Water, Hai Duong Clean Water, Hai Phong Clean Water…; Samsung Thai Nguyen factory; Vietnam's top 3 tallest buildings – Vietinbank or projects of Vietnam's No. 1 corporation such as Vingroup, Sungroup, Geleximco…; famous contractors in Vietnam such as Delta, Hoa Binh, Hawee, Sigma, Conteccons, Central…; and foreign partners such as Samsung, Lotte, Hyundai, LG, Tokyu…
So what makes you most proud when introducing EUROPIPE's plastic pipe products to customers?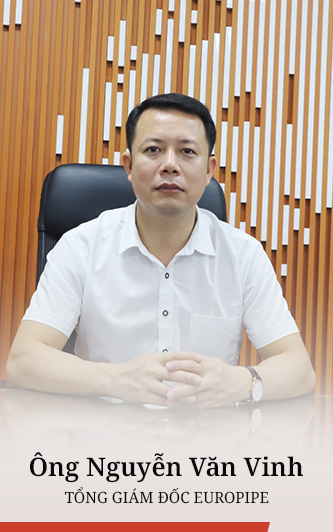 The thing that makes us proudest when introducing to our customers is that we will point to a very large project and tell them: "That project is provided by EUROPIPE with plastic pipes".
We have made our mark in many of the country's top projects, which is the affirmation of our brand, reputation, and quality. And every customer who comes to us is also very satisfied, even willing to recommend us to other units.
In addition, we are also proud to have built the 100% EUROPIPE brand of Vietnamese people to meet European standards, to provide for projects that previously had to use imported plastic pipes to meet the requirements; a Vietnamese brand that can compete fairly with foreign imported plastic pipe brands and even export to other countries, to keep the dollars for Vietnam.

What are the outstanding features of EUROPIPE's products compared to other plastic pipe brands in the field of plastic pipe production in Vietnam?
Regarding EUROPIPE's products, I can summarize them into 7 differences as follows:
First, EUROPIPE is the only plastic pipe unit in Vietnam with a warranty of up to 30 years.
Secondly, EUROPIPE's accessory thread is uniquely designed, with openings on both sides, making the accessory extremely sturdy, leak-proof, and anti-rotation when installed.
Next, EUROPIPE is the largest private enterprise with the largest investment scale in the production of HDPE pipes, PPR heat-resistant plastic pipes, uPVC pipes, and accessories in Vietnam.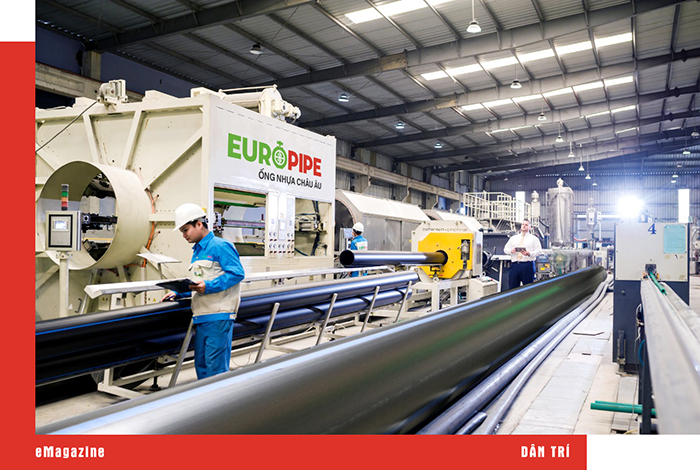 Fourth, EUROPIPE is the only plastic pipe factory in Vietnam that imports 100% new and modern extruders from Germany.
Fifth, our team of experts is from Europe and they never compromise on quality issues.
Sixth, 100% of raw materials imported from UAE and Nordic countries create eternally durable products.
And finally, EUROPIPE is the only plastic pipe manufacturing company in Vietnam that has a mechanical factory to manufacture molds for pipes and fittings, capable of manufacturing and supplying any type of product with non-standard sizes. standard according to customer's request.
Did I hear that EUROPIPE also plans to reach out to regional and global markets, not just limited to the domestic market?

Currently, EUROPIPE's products have been exported to Southeast Asian markets such as Cambodia, Laos, Myanmar… and Australia. We are also working with several partners to bring EUROPIPE plastic pipes to new markets, primarily in Asia.
Thank you, Sir!
"The outstanding product quality and the results EUROPIPE has achieved at major projects over the years are convincing reasons why Phuc Hung Holdings believes in EUROPIPE.
Moreover, EUROPIPE's product warranty policy of up to 30 years is something that no other unit on the market today dares to commit to us."
Mr. Tran Hong Phuc – General Director of Phuc Hung Holdings Company.
EUROPIPE has a nationwide distribution agent system. Partners can buy directly at EUROPIPE's agents in all provinces, or contact the following information for free advice and purchase instructions:
Hotline: 0962 152 211 – 0972 976 585
Theo Dân trí