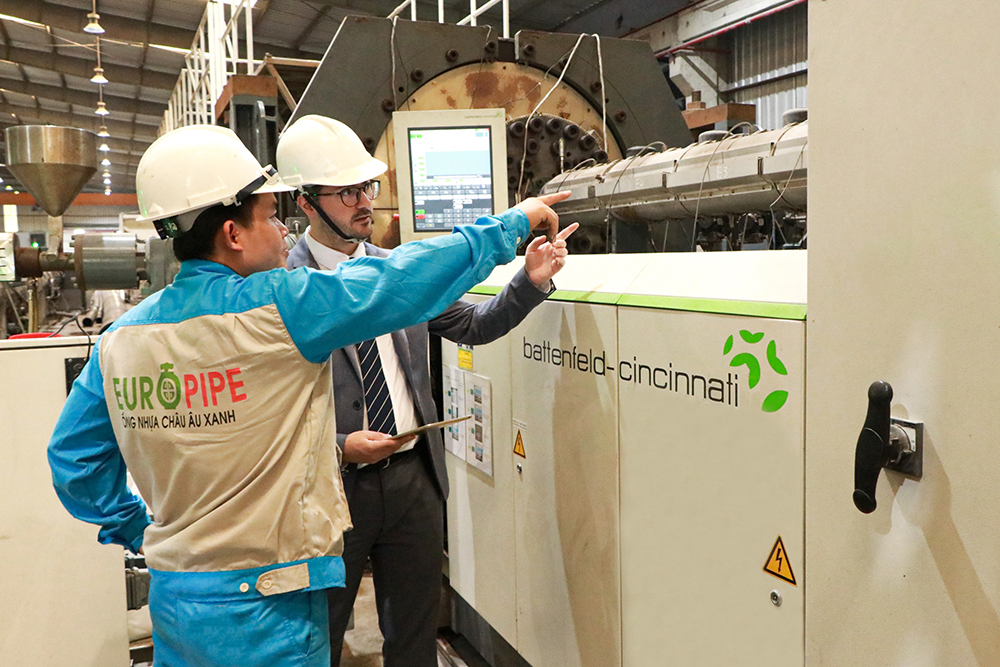 EQUIPMENT TECHNOLOGY
1. HDPE pipe Extrusion machine System
Brand: Imported synchronously from Battenfeld-Cincinnati (Germany), a leading manufacturer of pipe extrusion machines in the world.
Quantity: 07 production lines for HDPE pipes with diameters up to 1200mm.
The total capacity of the production line is: 3000 Kg/hour.
The whole line was pioneered by EUROPIPE imported in 2013 when the HDPE pipe production system was not yet popular. EUROPIPE is among the top 3 first domestic manufacturers to produce HDPE pipes with a large diameter of up to 1200mm.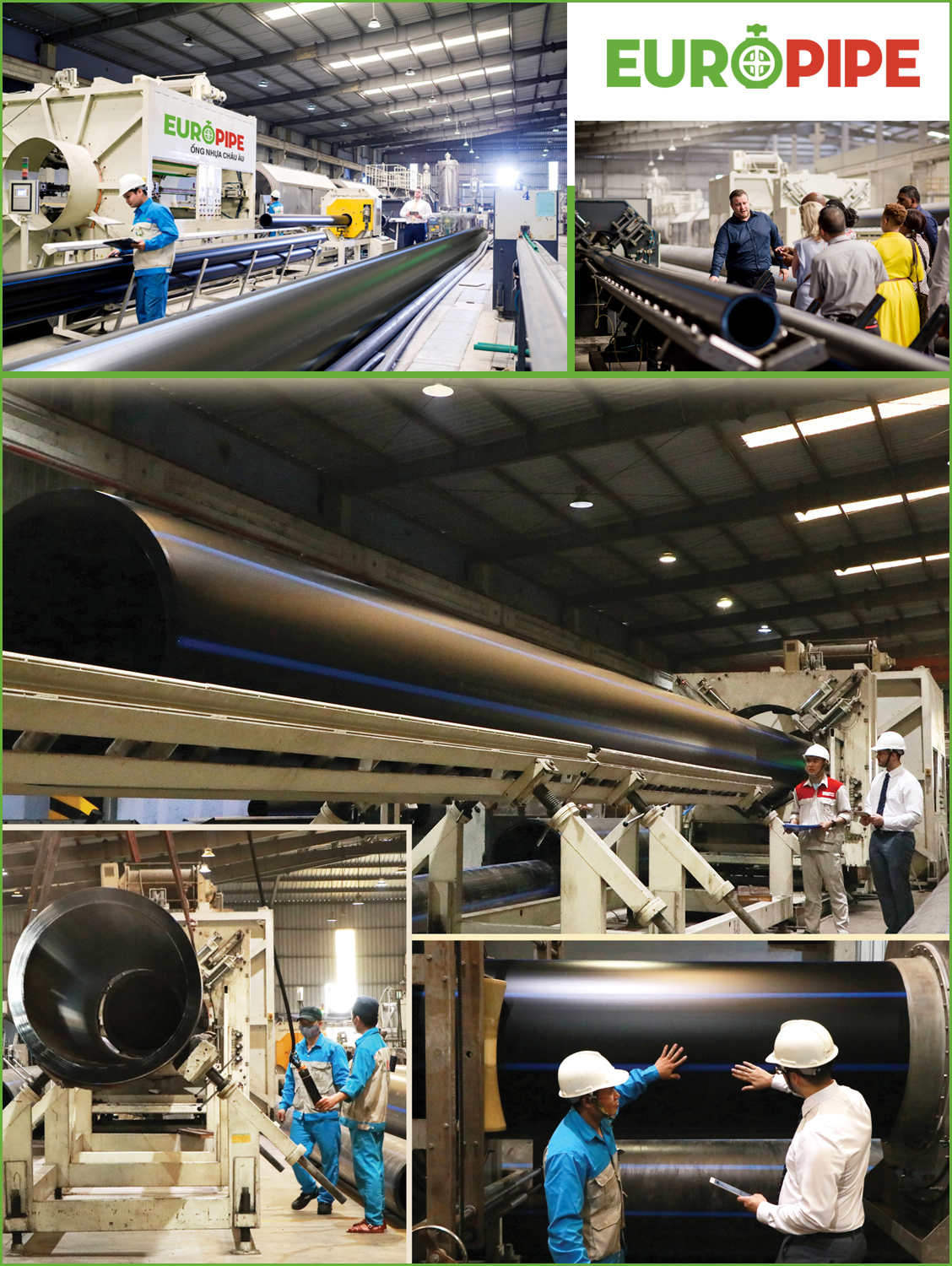 2. HDPE Dranule dryer System
EuroPipe invested in 07 systems of large HDPE granule dryers with modern technology, helping to dry plastic beads before being sucked into the extruder system, ensuring the finished plastic pipe is solid and has outstanding quality.
Quantity and capacity: 03 systems with a capacity of 2.4 tons/hour and 04 systems with a capacity of 150 kg/hour.
Drying technology: 03 cooling systems use honeycomb moisture separation technology combined with resistance drying, and the remaining 04 systems are dried by resistors.
Advantages and differences: EuroPipe's dryer system has a honeycomb dehumidification system.
3. Water cooling system
The water cooling system for the production of plastic pipe products at Euro Green Plastic Factory (EuroPipe) is one of the two largest water cooling systems in the North.
Currently, EuroPipe owns 10 WATER CHILLER cooling systems – WATER CHILLER HITACHI.
Power: Total capacity 1320 Kw/ hour.
Cooling water tank volume: About 300 m3.
Total investment cost: 15 billion VND.
4. uPVC pipe Extrusion machine system
Brand: Imported synchronously from Battenfeld-Cincinnati (Germany), a leading manufacturer of pipe extrusion machines in the world.
Quantity: 07 production lines for uPVC pipes with diameters from 21 – 500mm
The total capacity of the production lines is 60 tons/day.
Currently, EUROPIPE has the capacity to manufacture uPVC pipe products in two main systems: metric and inch systems, bringing a diverse product chain to partners – customers.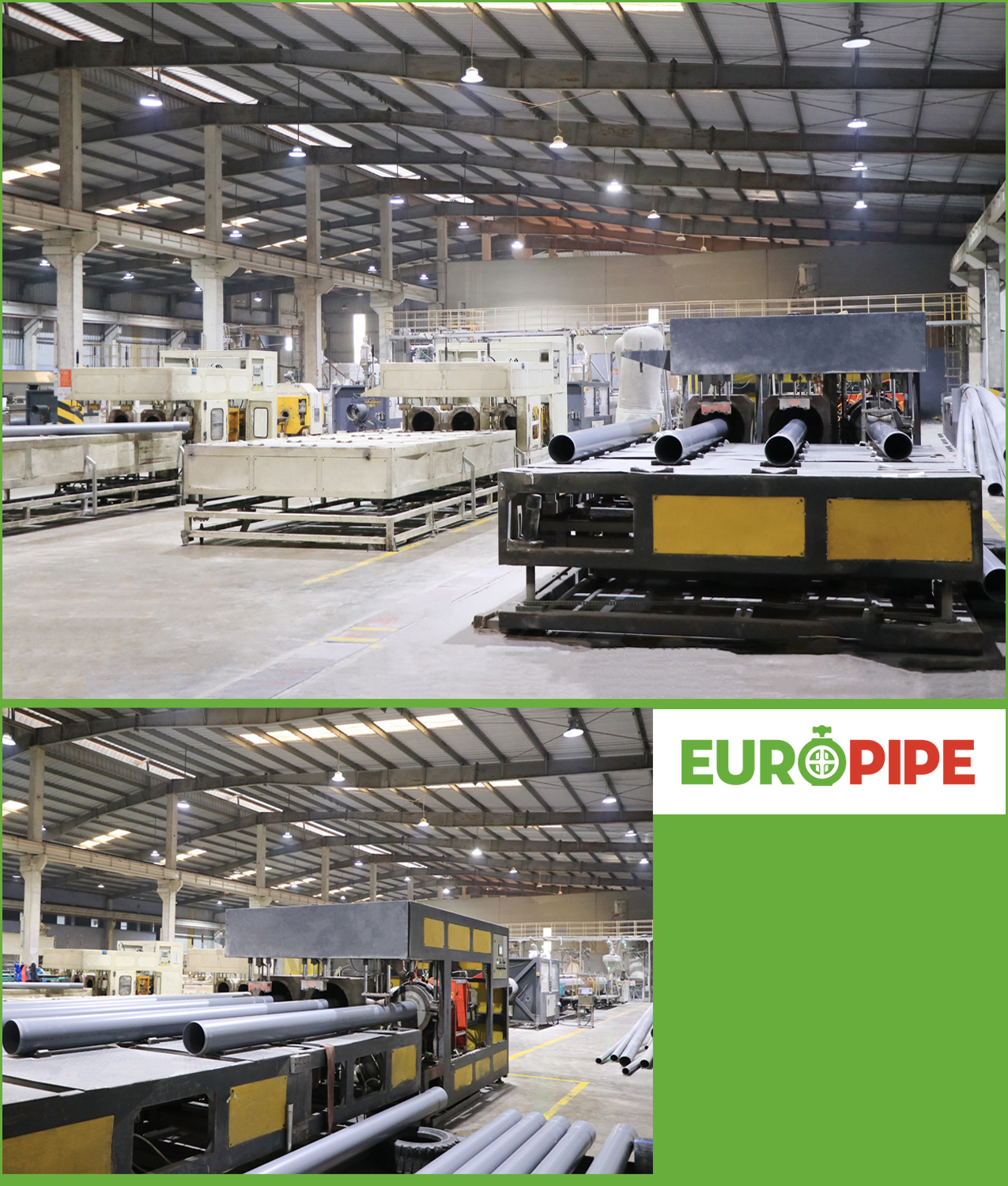 5. Mold workshop machinery system
EUROPIPE is the only plastic pipe and fittings factory in Vietnam to invest in a mechanical workshop to manufacture its own molds.
Advantage:
Guaranteed variety for pipes and fittings.
Actively developing new product lines, and improving product quality.
Ensure the design is absolutely accurate in size, standard shape, and easy assembly.
Thoroughly overcome the weaknesses of accessories for the water supply and drainage industry.
Creating delicate, beautiful, and high-precision aesthetic products.
Make sure the mold is always in good working order due to regular maintenance.
Proactively and promptly repair any arising problems with molds or products.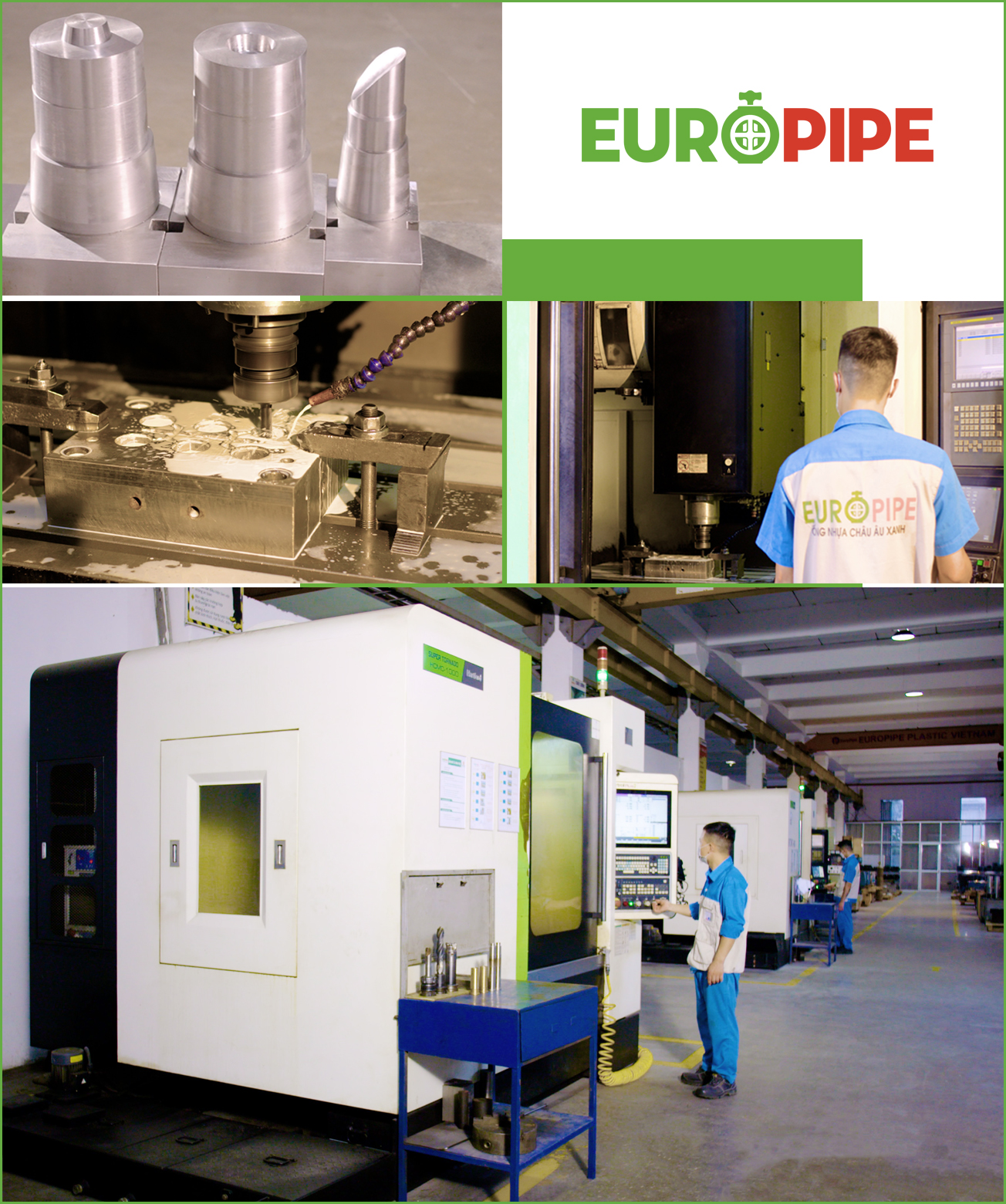 Euro Green Plastic Co Ltd owns a 100% imported production line from Germany (branded Battenfeld- Cincinnati). EuroPipe currently has nearly 20 extruders, and more than 30 injection molders with a brass valve manufacturing factory (anti-rotating foot fixing water leakage), and a mechanical factory manufacturing 100% synchronous design mold of European standards serving customers' requirements.
      In addition, EuroPipe has also invested a large number of welding machines for all pipe diameters to serve customers at the fastest speed.
      All EuroPipe pipes and fittings are manufactured from 100% raw materials imported from UAE (branded Borouge – UAE, Sabic – Saudi Arabia) and some Nordic countries.