(Dan Tri) – Meeting a set of 7 core and rigorous criteria, EUROPIPE has received the award of Top 10 most prestigious brands in Asia, affirming its prestige and top quality in products and services.
On the morning of August 28, 2022, at the Military Theater, the Asia Business Research and Development Center in collaboration with the Asian Industry Information Association – AIPA – held a ceremony to announce the "Top Prestigious Brands". Asia – ASIA's Top Trusted Brand Awards 2022″. This is an award held annually to recognize and honor the leading prestigious brands in the industry that are highly appreciated by investors, partners, and consumers in the Vietnamese market.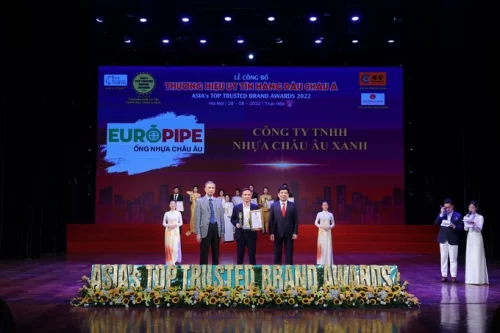 This year, the program was built with criteria to comprehensively identify businesses that have made efforts to overcome the difficulties and challenges of the market, develop sustainably, and actively contribute to the community and business. national economy. Among more than 100 names honored in the program, EUROPIPE brand of Euro Green Plastics Co., won the top 10 position.
To receive this award, EUROPIPE  must meet a set of 7 core evaluation criteria of the voting board, the most important of which is the leading prestigious brand in the industry, whose quality is confirmed in Vietnam and exported to Vietnam. exports in the Asian market.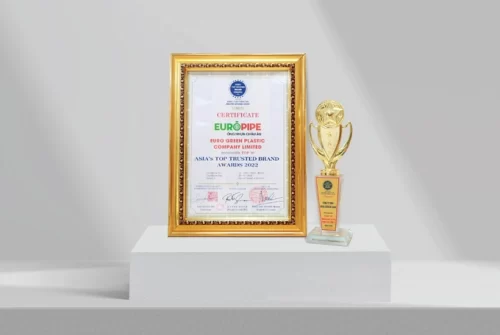 The honored brand must also have a sustainable development strategy in the continent, make an important contribution to the regional economy, in addition to high social responsibility, and comply with environmental and customs regulations. , tax. In addition, the brand must be registered for trademark protection in the Vietnamese and Asian markets.
In addition to this set of 7 core criteria, depending on each industry field, the voting panel will additionally evaluate other groups of factors, including management capacity and philosophy, and innovative technology activities. , financial capacity, human resources, marketing strategy… All core and additional criteria are evaluated according to international standards, with improvements specifically for the Asian market.
EUROPIPE branded products such as HDPE pipes, PPR heat-resistant plastic pipes, uPVC pipes, and the largest accessories in Vietnam are produced with more than 3,000 different product codes at a 100% automated factory under control. Quality control standards by European experts.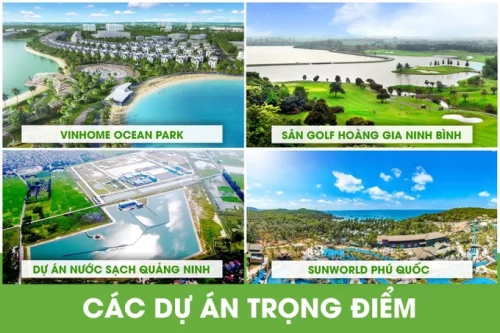 According to EUROPIPE, thanks to its superior European quality and leading reputation, its products are constantly present in major projects in Vietnam such as Ocean Park, Van Don International Airport (Quang Ninh), and other major projects in Vietnam. large water supply projects of clean water supply companies such as Hue Clean Water, Quang Ninh Clean Water, Duong River Clean Water, Hanoi Clean Water, Hai Duong Clean Water, and Hai Phong Clean Water…. Products are also available at Samsung Thai Nguyen factory, the top 3 tallest buildings in Vietnam – Vietinbank or projects of corporations such as Vingroup, Sungroup, Geleximco…; famous contractors such as Delta, Hoa Binh, Hawee, Sigma, Conteccons, Central…; foreign partners such as Samsung, Lotte, Hyundai, LG, Tokyu…
In addition to the common product categories, EUROPIPE is also one of the three rare manufacturers of special pipes and fittings with a diameter of up to 1,200mm in Vietnam and is one of the pioneers in supplying such products. super large plastic pipeline reaches high-pressure level PN16. These are all product lines with the most difficult production techniques on the market, with high requirements in terms of raw materials, production technology, skills of operating engineers as well as accompanying machinery systems.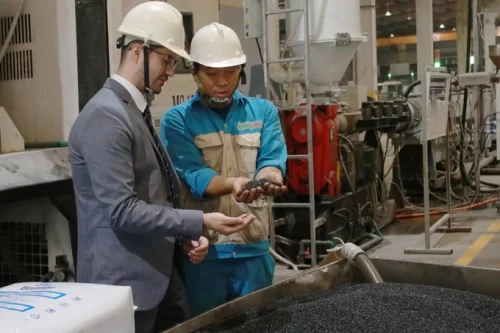 In addition to guaranteed quality, the EUROPIPE brand demonstrates environmental responsibility when it comes to user-friendly products. 100% of the input materials are primary plastic beads imported from the UAE and Nordic countries, producing plastic pipes and accessories that ensure hygiene and safety, meeting the highest standards dedicated to water supply works. EUROPIPE's plastic pipes and accessories are confident to have a durability of up to hundreds of years, a brand in Vietnam that guarantees product warranties of up to 30 years.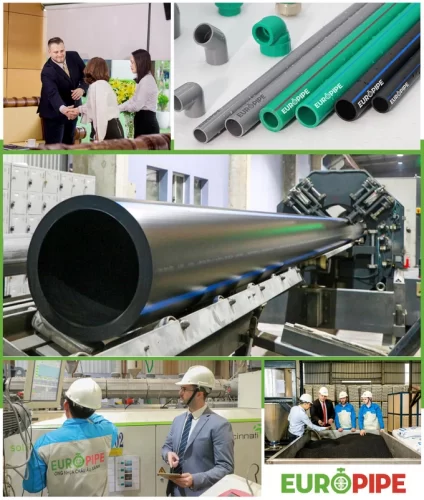 According to EUROPIPE, with this international award, Vietnamese plastic pipe manufacturers continue to be recognized for their efforts to maintain product quality as well as sales services in the plastic pipe manufacturing and distribution industry. , plastic accessories in particular, and the construction materials industry in general. This is an affirmation that Vietnamese products, represented by EUROPIPE, are completely comparable to regional and international names, leaving a strong impression on the international market.