The difference that makes up the EuroPipe brand is the leading manufacturer of plastic pipes and plastic pipe fittings in Vietnam that meets European standards, is selected for water supply and drainage works across the country and is built by engineers. Seasoned build experience appreciated.
EuroPipe Plastic Company Limited (EuroPipe) is currently one of three enterprises in Vietnam that can produce plastic pipes and plastic pipe fittings with a diameter of up to 1200 mm. After nearly a decade, the EuroPipe plastic pipe brand has quickly risen to become one of the three largest manufacturers of plastic pipes and accessories in Vietnam with a nationwide market coverage.
EuroPipe's competitive advantage lies not only in product quality that meets European standards but also in its ability to provide customers with a comprehensive solution, from plastic pipe products to attached plastic pipe fittings.
"Difference comes from pioneering"
What all customers who have cooperated with EuroPipe have noticed is that it is an enterprise that is always a pioneer in catching up with new technologies and new products, making constant efforts to bring Vietnamese products to compete fairly with competitors. Imported plastic pipe brands, making their mark in big projects.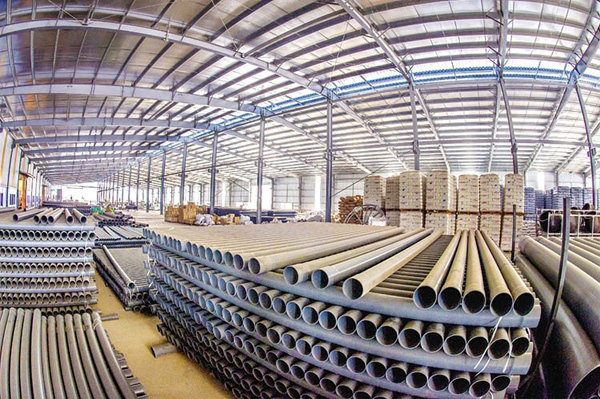 Referring to EuroPipe, many partners and customers express their trust because EuroPipe is the only unit in Vietnam that imports CBU from Germany 100% new extruders with more than 30 pipe extrusion lines and more than 50 injection molding machines. for pressing accessories.
Mr. Nguyen Huu Luan – Chairman of Cua Lo Water Supply Joint Stock Company said: "When visiting EuroPipe's factory, I was very impressed because all the main production machines are imported CBU from Battenfeld- Cincinnati is Europe's leading pipe and fittings manufacturing technology company. At the same time, the direct operation and quality control at the factory is also a team of foreign experts. That makes me completely trust and choose EuroPipe as our companion for many years, besides, I feel really proud of Vietnamese enterprises that are pioneering in methodical investment and technology application to manufacture and supply Vietnamese products with quality equivalent to European products".
EuroPipe is also a commended manufacturer with the most complete range of plastic pipes and accessories in Vietnam. With a full range of pipes and fittings with diameters from 20 – 1200mm, from HDPE pipes and fittings, UPVC pipes and fittings to PP-R heat resistant plastic pipes and fittings. EuroPipe also synchronously invests in both plastic conduit systems and electrical accessories, pipes for golf course water supply and drainage, pipes for electrical engineering, water, petroleum, heat-resistant, gar, and other industrial chemicals. technical specificity.
EuroPipe pioneered in investing in a mechanical factory to manufacture molds for pipes and fittings
Sharp and precise mold details are the foundation for EuroPipe plastic pipes and fittings to always meet the high technical standards of Vietnam and the world. Besides, EuroPipe is also proactive and flexible in creating products that meet the unique needs of each customer and each project. This is possible because EuroPipe has pioneered in investing in building EuroPipe's own mold-making mechanical factory for pipes and fittings. That is a great competitive advantage of the company compared to other manufacturing units in the same industry.
Along with that, the investment in the European standard thread and copper valve factory has brought EuroPipe's products to a new level. While in Vietnam, it is rare for any water pipe and fittings manufacturer to produce all threaded fittings by themselves, EuroPipe is willing to invest in the production workshop and design thread with prongs on both sides. This makes EuroPipe water pipes and fittings truly different from products elsewhere; due to their extreme strength, absolute leak resistance, and unique resistance to rotation.
What other differences make up EUROPIPE's brand, let's find out in the next articles!
Theo Tạp chí chuyên ngành cấp thoát nước