EUROPIPE brand director – Mr. Jonas Danielson affirmed that all EUROPIPE's investments come from efforts with the goal of producing European realistic with quality products at affordable prices for Vietnamese consumers.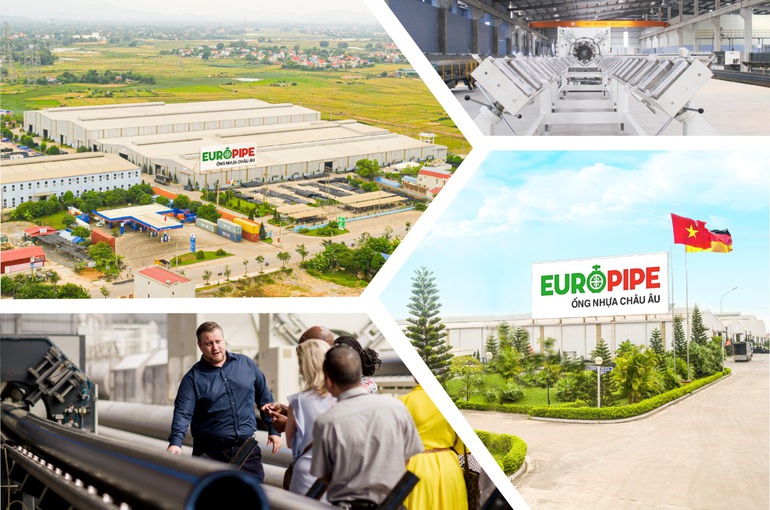 EUROPIPE factory is famous for being the only unit with a 30-year warranty and well-invested, but the special thing that we can see today when we visit is the huge mold workshop that the company owns. We have visited many plastic factories but no one is ready to invest in such a large mold workshop. So the purpose of EUROPIPE when building this mold workshop is to make a mold to sell to the market or for any other purpose?
– Currently, EUROPIPE is the only plastic pipe and fittings factory in Vietnam to invest in a mechanical workshop to manufacture its own molds, along with a synchronously invested modern machinery system, by European engineers who operate and transfer technology. That creates sharp, accurate, and highly synchronous product details.
Because of our synchronous investment and our own mold workshop, after 8 years of entering the market, we have been recognized and used by many customers because of our uniformity, diversity, durability, technical guarantee, and progress. which gives customers peace of mind and puts EUROPIPE in the group of leading enterprises in Vietnam in manufacturing and supplying plastic pipes and fittings.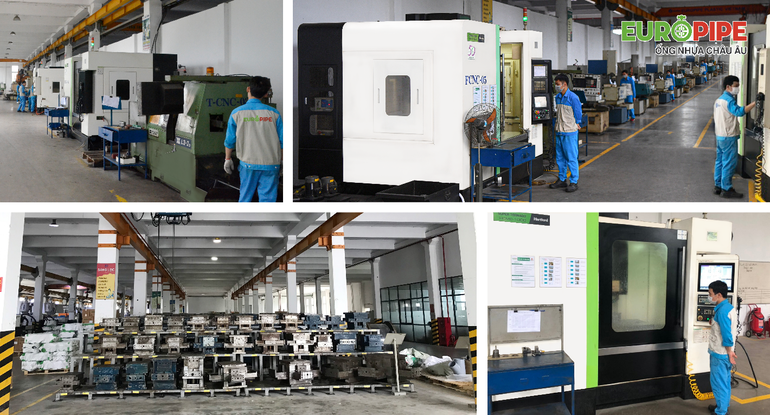 What advantages does its own mold workshop bring to EUROPIPE in the production process and compete with other brands in the market?
– Differentiation prevails, that is the fact for every company as EUROPIPE. As for the investment in the mold workshop, we have 7 obvious advantages compared to the market:
One is to ensure variety for pipes and fittings. Having its own mold workshop means being able to "tailor" for every project, and customer's needs, ensuring diversity, synchronization, and meeting from common orders to special orders. This is especially meaningful for the construction of high-rise buildings and infrastructure because if the pipes and fittings are not in sync, it is very difficult for the contractor to construct while in the process of assembling but lacking fittings. At that time, in two choices, the first is to have fittings, and the other is to use fittings from other brands. This leads process repeating from searching, and browsing to quality control from the beginning, which is very complicated. So I want to emphasize that uniformity in the plastic pipes and fittings is super important. And EUROPIPE meets that, bringing customer convenience and satisfaction.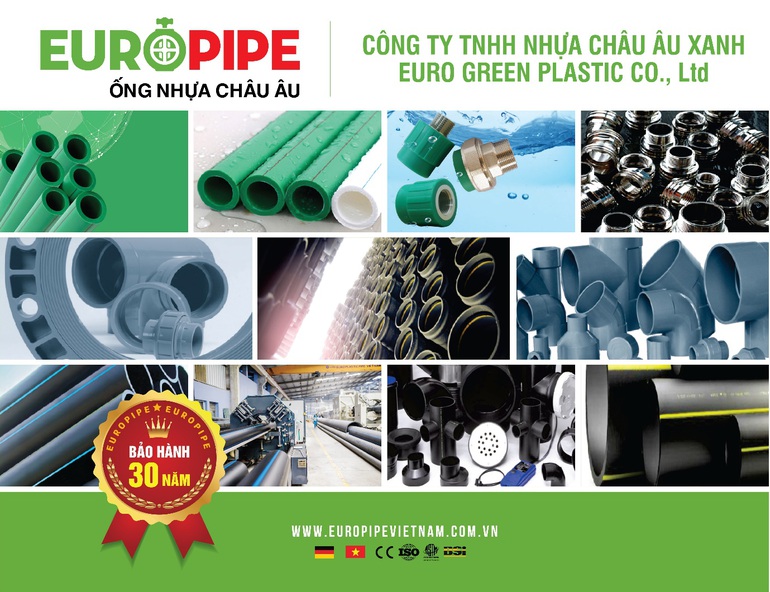 Secondly, when having its own mold workshop, the development of new product lines, the diversity of products increase, and the quality improvableness or the usability of existing products increase will happen quickly, mainly more dynamic and simpler than units without their own mold shop.
The third is to ensure the standard size for pipes and fittings because this is an important factor and ensures convenience in installation. Thanks to its own mold workshop, EUROPIPE's pipes and fittings are guaranteed to be designed with absolute accuracy in terms of size, standard shape, and easy assembly to ensure tightness, especially no water leakage through the joint.
Fourth is to thoroughly overcome the weaknesses of fittings for the water supply and drainage industry. Usually during use, when there is flow in pipes and fittings, at the junctions where there is a change in the flow direction, there will be a collision which creates great pressure easily leading to breakage or bursting broken. Understanding that, EUROPIPE has created specially designed molds to overcome the situation of conflict and broken fittings at these junctions.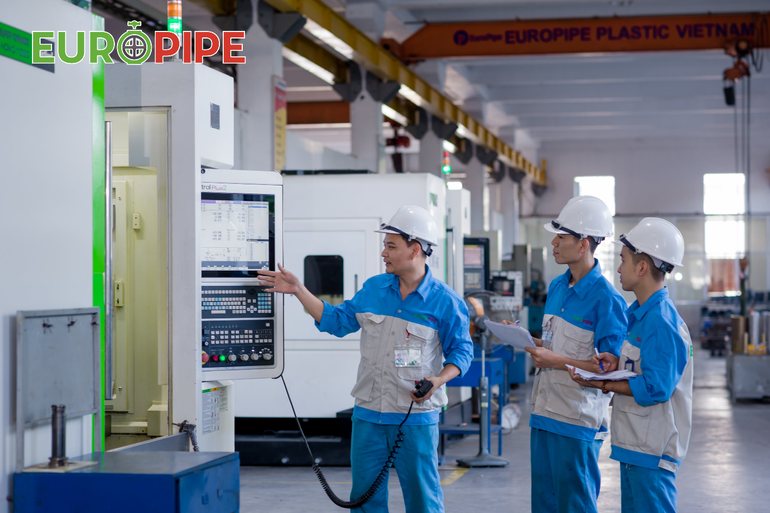 The fifth is to launch a product that guarantees a delicate, beautiful aesthetic. Plastic pipes and accessories are only beautiful and glossy when the mold is made of high-quality steel, which can withstand great pressure because the pressure of the plastic industry is great and continuous. If the steel making the mold is not guaranteed, the mold will be easily deformed and the accuracy is not high. As a result, the finished product is no longer beautiful or accurate.
Sixth, with thousands of different sets of molds, after a period of use, there will be wear and tear that change the size, shape, and aesthetics. EUROPIPE has a mold workshop to proactively maintain and periodically maintain the mold, ensuring that the mold is always in good working condition, with high accuracy for products as well as ensuring the most important technical and artistic standards.
Seven is that this mold factory can help EUROPIPE proactively and promptly repair any arising problems about molds or products without waiting or depending on external partners. This helps us to always meet the service schedule for our partners.
At EUROPIPE, we always aim for top quality in all of our products, and to do this we must be able to control all stages of the production process. This is why we make a big investment in the CNC mold workshop. We are not only to meet the needs of our customers, maintaining quality control, but also to design and manufacture unique products. One thing that cannot be ignored is that with a modern, large-scale invested mold factory controlled by foreign engineers and experts, we have also received many mold orders in the market. This mold workshop gives us great advantages as mentioned above and helps us to be at the top of the market.
Regarding the plastic pipe market in particular and construction materials in Vietnam in general, how do you predict the growth of this industry? What will EUROPIPE do to take advantage of the general growth of the real estate industry as well as transport infrastructure in Vietnam in the near future?
– The construction market in Vietnam has been active for many years and will continue to grow strongly. This leads to a huge demand for building materials and there are many companies in the market, so there will be various options for consumers.
In the past, dozens of low-quality products were used in order to save money. But the market has changed because users realize the cost to repair when using low-quality products is huge and causes a lot of material and reputational damage. So consumers now demand a higher quality product with optimal cost and long warranty.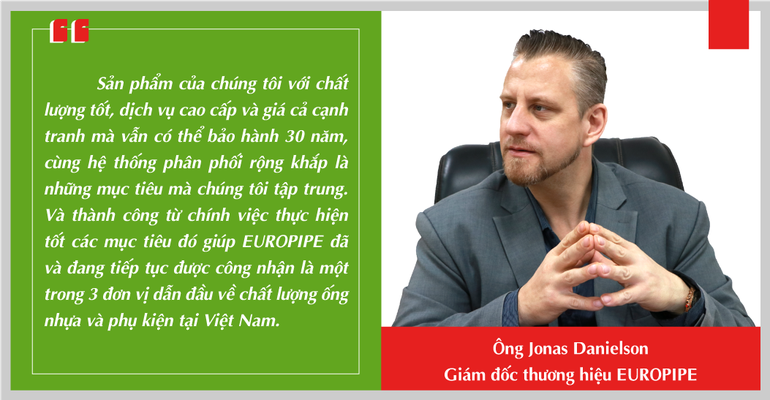 Our products with good quality, superior service, and competitive prices with a 30-year warranty, and an extensive distribution network are the goals we focus on. And the success of the good implementation of those goals helps EUROPIPE has been and continues to be recognized as one of the 3 leading companies in the quality of plastic pipes and fittings in Vietnam.
Yes, thank you!
According to Dan Tri newspapers,