CORRECT WHAT IS uPVC PIPE?
uPVC pipe, also known as uPVC plastic pipe, is an abbreviation of the phrase "unplasticized Polyvinyl Chloride". This is a form of PVC pipe and is currently being widely used in the market because of its superior features compared to previous generation PVC pipes.
The basic composition of uPVC pipes consists mainly of PVC powder, besides that, there are also necessary additives, UV protection agents, pigments, heat stabilizers, smoothing agents, etc. From the ingredients, The top is heated to melt and extrude the tube to shape the product.
uPVC pipes have the function of sound and heat insulation, creating durability for the product and bringing high economic value.
HIGHLIGHTS OF UPVC PIPE
Thanks to the materials that make up the uPVC pipe product line. So the product line has many outstanding features that other plastic pipes do not have. It May be mentioned as:
Long lifespan.
High corrosion resistance.
High mechanical strength, good impact, and pressure resistance.
A small coefficient of friction favors flow.
Good electrical insulation, difficult to ignite.
Easy to transport, construct and install
The price is much lower than other plastic pipes on the market
High aesthetic features due to bright white color.
APPLICATIONS OF UPVC PIPE IN LIFE
With the above outstanding features, uPVC pipes are widely applied in life. It May be mentioned as:
Installation for the sewage system, rainwater drainage.
Install clean water supply.
Installation of water supply pipes for irrigation in agriculture.
Installation of pipe systems to protect power lines, signals, and optical cables.
Wide range of industrial applications.
EUROPIPE PLASTIC PIPE – EUROPEAN LEVEL
EUROPIPE uPVC pipes and fittings are strictly controlled by the quality management system ISO 9001:2015 and European standards.
EUROPIPE uPVC products are used in construction, water supply, and drainage, and some industrial fields.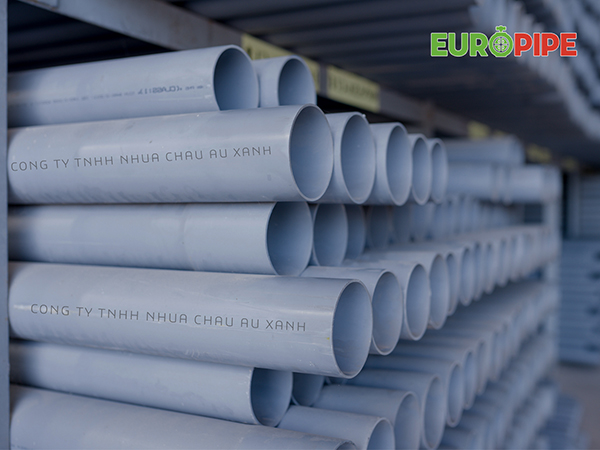 EUROPIPE's uPVC has the following advantages:
1. Light, easy to transport, simple to install
2. Smooth pipe surface, small coefficient of friction for good drainage
3. Great mechanical strength, resistance to impact, and high pressure
4. No rust, resistant to chemicals
5. Non-Toxic
6. Reasonable price
Call us now for product advice at
Phone: (+84) 96 303 5558
Email: info@europipevietnam.com.vn