To be able to participate in the project that was expected to be the tallest steel structure architecture in Southeast Asia, EUROPIPE had to undergo rigorous 3-step testing by two leading architectural consulting names in the UK and the US.
The only imported substitute brand
Appearing in the US since 1885, the skyscraper quickly became a race of cities, countries, and designers around the globe, as a way to show the development of the construction industry and strength. economy. In that trend, Vietnam kicked off the skyscraper market with the iconic Bitexco Financial Tower completed in 2011. Hanoi then took the place of Ho Chi Minh City in the heat of high-rise projects, with the successive birth of projects such as Keangnam, Vietinbank Tower, Lotte Center, Entrepreneur Tower, Landmark 105…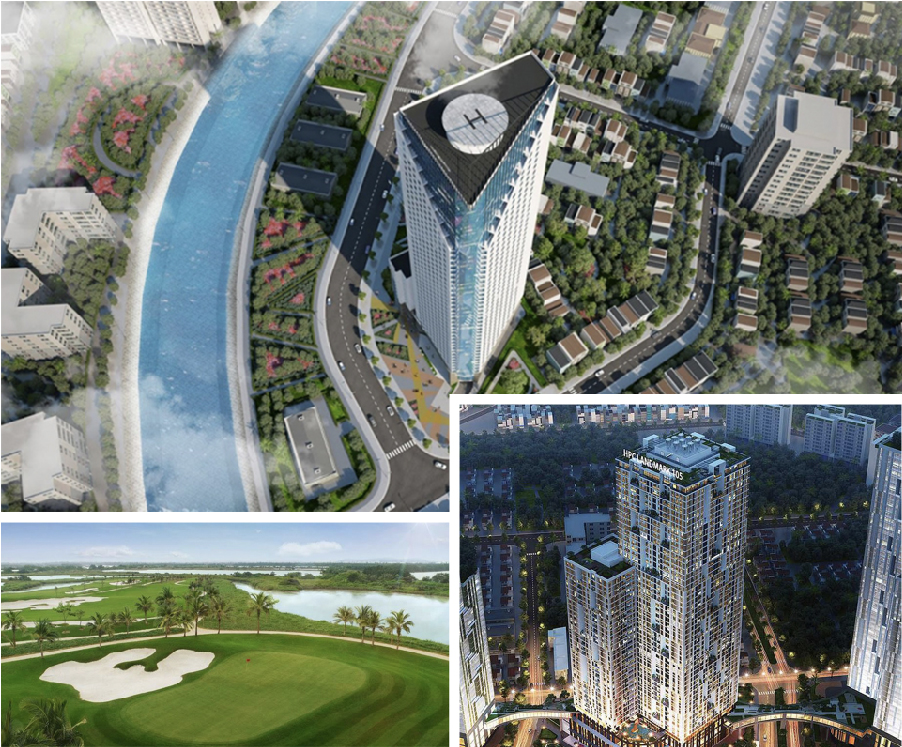 To carry out these outstanding and unique projects, the investor has been looking for construction material suppliers under the very close supervision of the world's leading names in consulting and supervision, including Foster+Partner – the leading company in the list of 100 largest architecture firms in the UK; Turner International monitoring unit from the US – a famous brand associated with the success of the Burj Khalifa tower. In Vietnam, Turner is also known for his participation in a series of major projects such as Bitexco Financial Tower, JW Marriott Hanoi…, and is well known for his principles of professionalism, integrity, and objectivity.
Approaching one of the most important projects in the Hanoi real estate market in 2015, the problem at that time of Euro Green Plastics Co., Ltd (EUROPIPE) was to supply drainage pipes and fittings. with high requirements for durability and performance not inferior to brands from the US and Europe such as Wavin, JM Eagle. The types of plastic pipes required to be used in this project are HDPE, PPR, uPVC – not only lighter, more resistant to corrosion and heat, but also more resistant to bacteria and chemical accumulation in the water, age. long service life, reducing maintenance and replacement costs.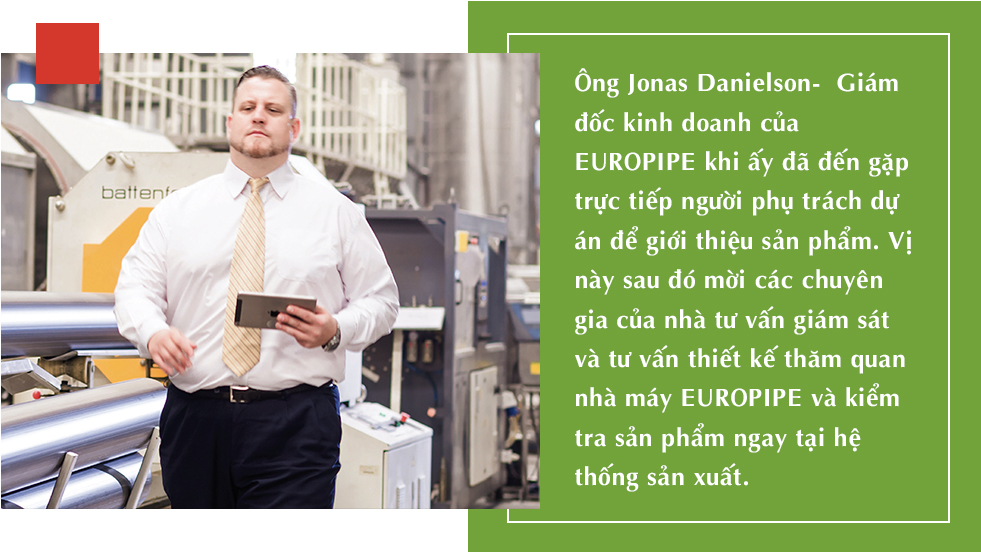 Having undergone many tests in laboratories as well as in actual works, it is confirmed that the quality meets and exceeds British Standards (British Standards) and German standards (DIN) at a reasonable cost from the manufacturer. In the country, the investor, consultant, and supervisor have approved the use of EUROPIPE plastic pipes and fittings for this project. This result marks the affirmation that a Vietnamese brand can compete fairly and be selected to replace imported products of the same type in such a special iconic project.
EUROPIPE the name that travels across the country
EUROPIPE's success comes from the exact initial orientation of the Board of Directors when it wants to become a leading manufacturer and developer of plastic pipes and fittings in Vietnam. During the past 8 years, the company has made methodical investments in a series of plastic pipe products with the highest quality requirements, suitable for projects that emphasize the safety of materials, durability between the impacts of the environment and the environment. environment and optimal utilization efficiency, ensuring continuous operation, especially in the industry related to essential goods services such as water. That is why EUROPIPE's plastic pipes are present in a series of large water supply projects of clean water supply companies such as Hue Clean Water, Quang Ninh Clean Water, Song Duong Clean Water, Hanoi Clean Water, Hai Duong Clean Water, water. Clean Cua Lo … Even the Bac Kan town drainage project worth up to 10.6 million USD of the Finnish contractor Econet also trusted to choose EUROPIPE as a supplier of plastic pipes.

Mr. Nguyen Huu Luan – Chairman of Cua Lo Water Supply Joint Stock Company said: "When I visited EUROPIPE's factory, I was very impressed because all main production machines were imported completely from Battenfeld-Cincinnati. Ltd. thought and chose EUROPIPE as our companion for many years. Besides, I feel really proud of Vietnamese enterprises that are pioneering in methodical investment and application of technology to produce products. manufacture and supply Vietnamese products with quality equivalent to European products".

Thanks to a system of machinery capable of producing a variety of plastic pipes and fittings from ordinary to non-standard ones, EUROPIPE can penetrate both civil buildings and design-specific projects. as well as the intended use. The variety and completeness of EUROPIPE plastic pipes and accessories have helped many large projects such as Ocean Park, Van Don International Airport (Quang Ninh), important projects of a series of real estate names. Big companies such as Vingroup, Sungroup, Geleximco… or famous contractors Delta, Hoa Binh, Hawee, Sigma, Coteccons, Central… can create asynchronous water supply and drainage systems, bringing top-quality to these projects. . Not only that, EUROPIPE's products appear from Cape Ca Mau to the top of Mong Cai. In addition to being a major brand of the country, the special EUROPIPE brand has "flowed and crept" into all the alleys, villages, and big cities through the civil distribution system of up to 200 points in the city. many localities.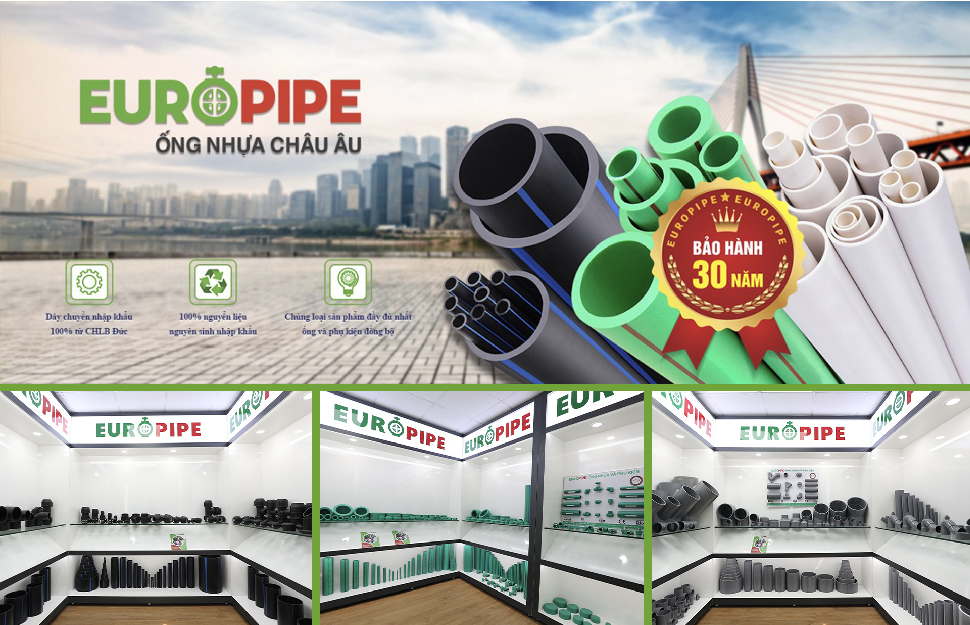 EUROPIPE also successfully exports locally when it receives the trust of foreign corporations to participate in a series of important projects such as the Samsung C&T factory in Bac Ninh, or two high-class hotel and car factory projects. by Hyundai Thanh Cong. Even in the Ciputra project, EUROPIPE was chosen to replace the Austrian Kelen plastic pipe – the brand that used to be the supplier of plastic pipes for the famous Marina Bay Sand hotel project in Singapore.
With a way of investing deeply in quality and especially seriously innovating as well as adjusting services to satisfy all the most demanding requirements of customers, EUROPIPE's product success has quickly come with success. impressive revenue record. Despite the difficulties caused by the pandemic, Ms. Vu Thi Chung – Deputy General Director in charge of Sales said that EUROPIPE still achieved a growth milestone of over 30% in 2021, maintaining its position as a manufacturer of plastic pipes and accessories. leading accessories in the Vietnam market with European quality standards. In the longer term, EUROPIPE aims to not only stop at the existing international markets of Australia, Laos, Cambodia, or Myanmar but also expand to conquer many other countries above, improving the position of Vietnamese goods on the map. foreign export.