With the goal of "always available when customers need it", EUROPIPE is ready to invest millions of dollars in a system of synchronous plastic pipe factories with a diameter of up to 1200mm and provide many specific products to the market. dedicated to special projects in Vietnam.
Special products for special projects, not all businesses can produce
In Vietnam's plastic pipe market, when it comes to pipes over 630mm, investors and contractors in the construction sector are no strangers to the name EUROPIPE. So what has made a brand successful in the market of providing plastic pipes and accessories for the water industry so quickly?
In the projects it has participated in, EUROPIPE has especially had a "charm" with projects using large pipes for water supply and drainage in big cities. In fact, city water supply and drainage projects all require strict quality standards for underground construction. At that time, only one detail does not match and is not guaranteed, and the operation process is not only difficult, but the remedy also brings a burden to the investor, the contractor, and the whole city, not to mention the impact on the daily life of residents.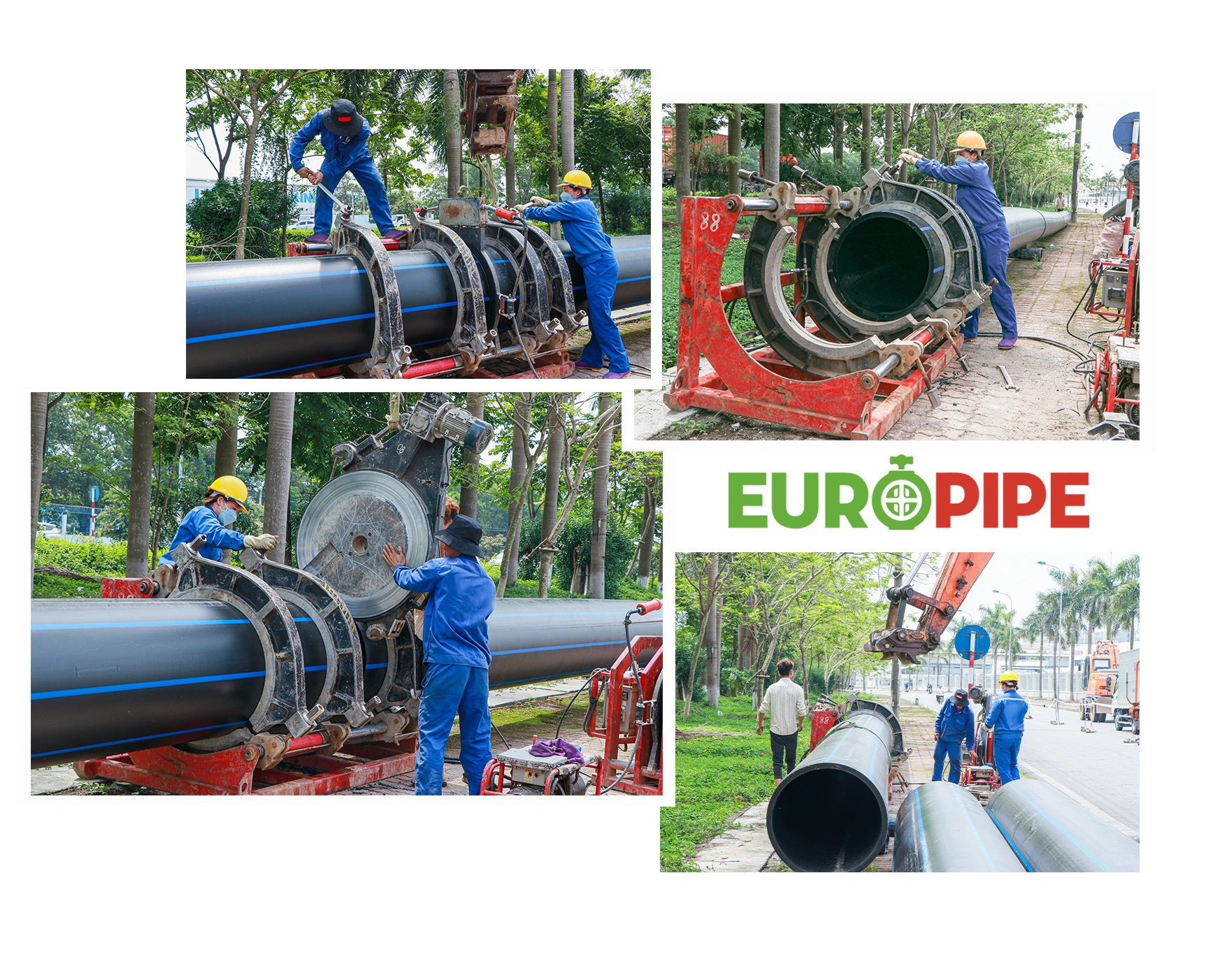 However, solving the problem of plastic pipes used for water supply and drainage projects is not easy. The main reason is that the products for these projects have different specifications. Normally, the residential or industrial plastic pipe market usually has sizes from 20mm – 630mm, while pipes for large city water supply and drainage projects will require sizes up to 710mm – 1,200mm with a variety of pressures. the force from 6 -16 Bar.
With large pipes and high pressure, the technical requirements of the production are also much stricter. The plastic beads used are PE100 resins imported from the UAE and some Nordic countries, which are resistant to sagging, have high density and molecular bonding, and have the ability to withstand the pressure inside and outside the plastic pipe depending on a lot. into European standard extrusion technology. In addition, the number of projects that need to use these special plastic pipes is not much, so in Vietnam, not all manufacturers are willing to invest tens of millions of dollars in production lines. Therefore, many investors and contractors often have to choose the option of importing cast iron pipes, steel pipes, or plastic pipes…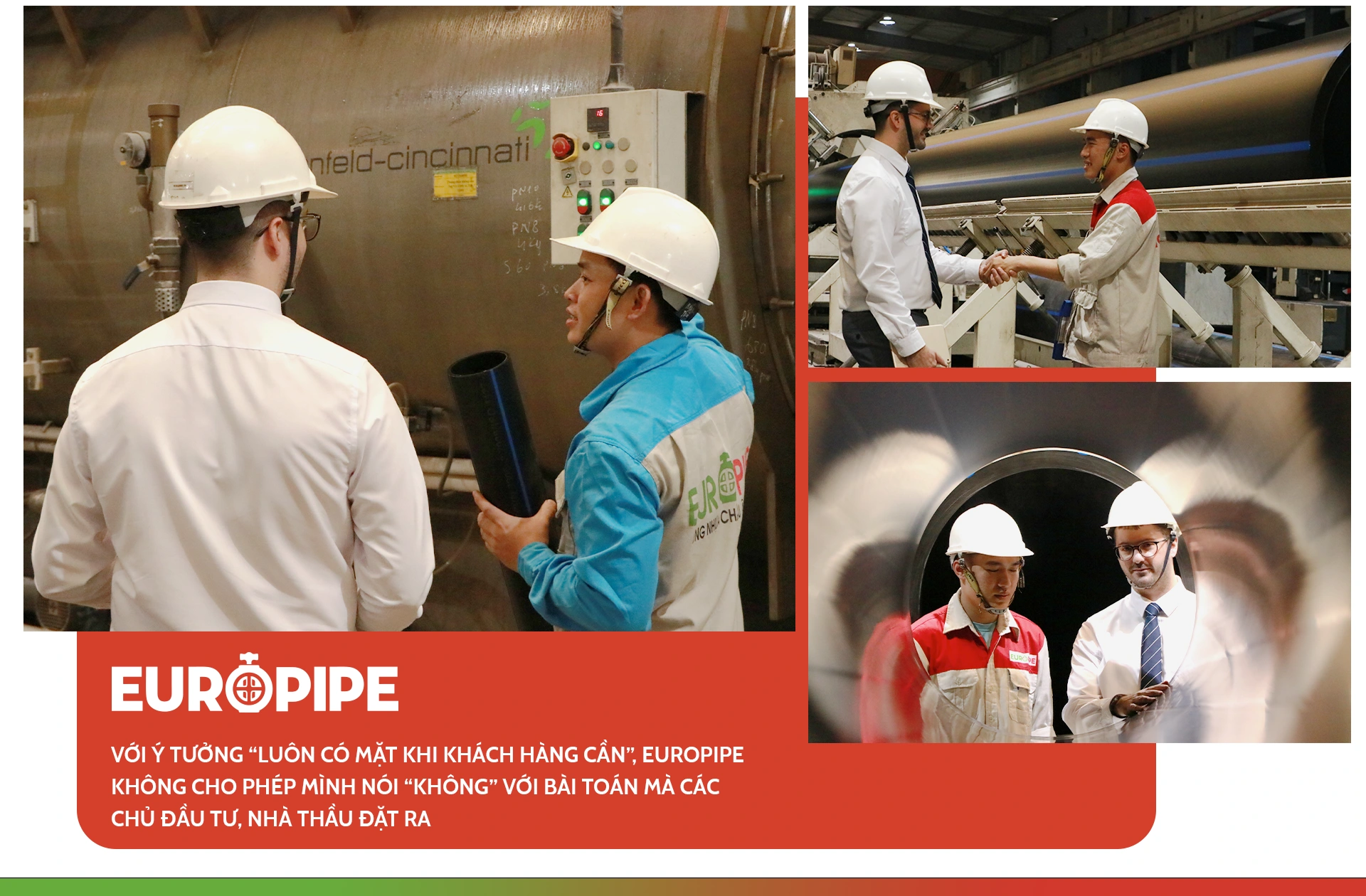 However, when choosing imported goods, investors and contractors not only have to accept high prices if they want to come with good quality but also face risks in terms of supply, accessories, and warranty. after being put into use. It is not uncommon for the progress of projects to be delayed when using specific products due to difficulties in the import process, especially when adverse developments in petrol prices, transportation costs, and afraid of disease. This causes both financial loss and damage to the reputation of investors and contractors.
With the idea of "always being there when the customer needs it", EUROPIPE does not allow itself to say "no" to the problems posed by the investors and contractors and understands that if they can master the specific product groups that the market is In this market that is "thirsty for supply", EUROPIPE will create an important advantage when bringing European quality products to serve Vietnamese people in all parts of the country.
Thanks to owning a large-scale production plant, a wide range of products in diameters ranging from 20mm – 1,200mm, and a synchronous accessory system, EUROPIPE has become a familiar choice for customers looking for a synchronous and complete solution for your project.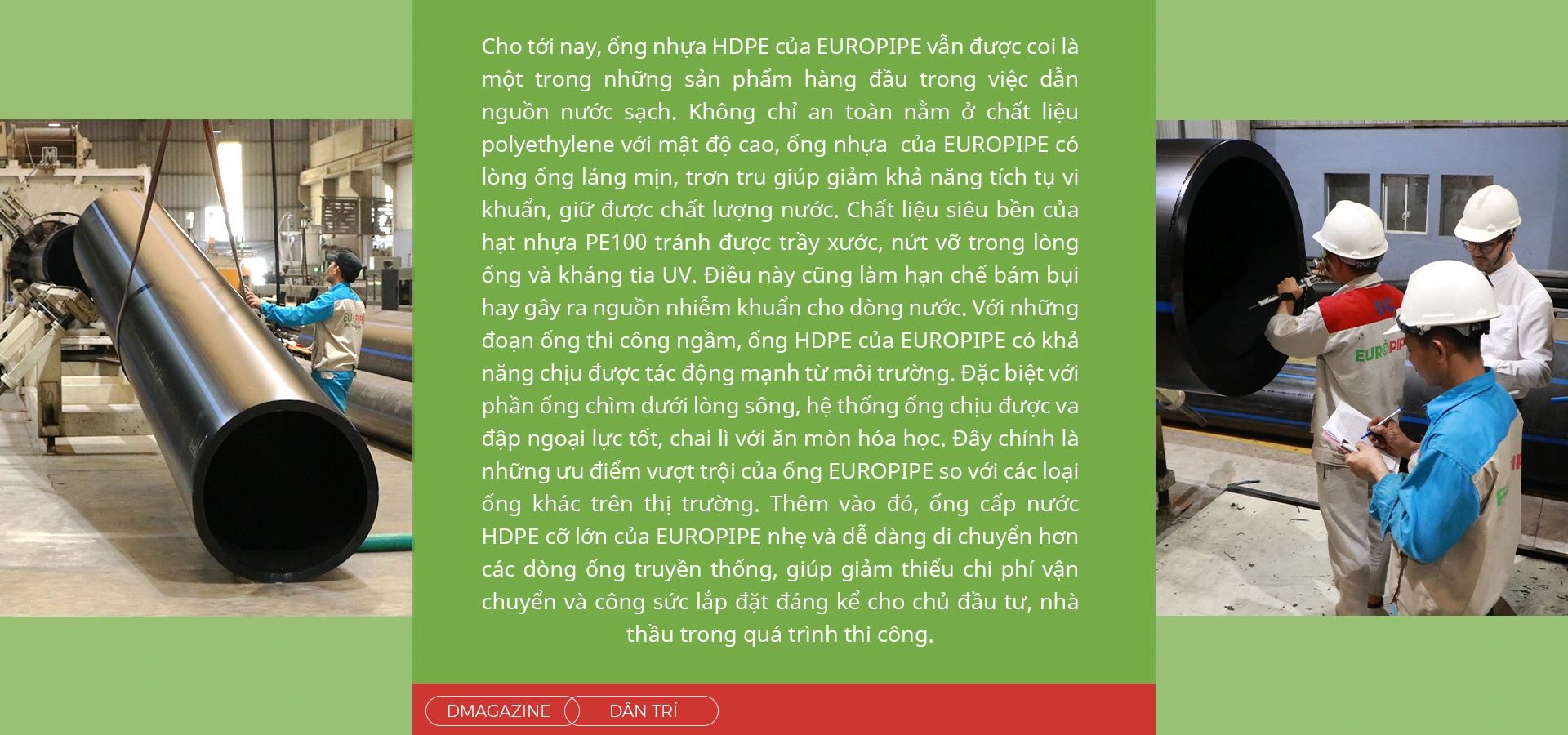 With the ability to meet all requirements of investors and contractors, EUROPIPE has been trusted to participate in many large projects across the country and the region. Especially, large pipes 630, 710, 800, 900, and 1200mm appear in a series of large water supply projects such as Vinh Phuc, Bac Ninh, Thanh Hoa, Da Nang, Phu Quoc … with the package value up to millions of dollars.
From the vision to the secret to creating the top position
From the vision and investment determination of the company's management, EUROPIPE people have been making efforts for nearly a decade to create HDPE, PP-R, and uPVC pipes, and fittings that bring European quality to customers. Vietnamese works. From the very beginning, determining the heart of the factory is the high-tech extruder system, EUROPIPE has selected 100% complete equipment imported from Germany and supervised by experienced experts from Europe to create quality products. Raw materials used in the production process are 100% virgin plastic beads imported from Northern Europe and the UAE.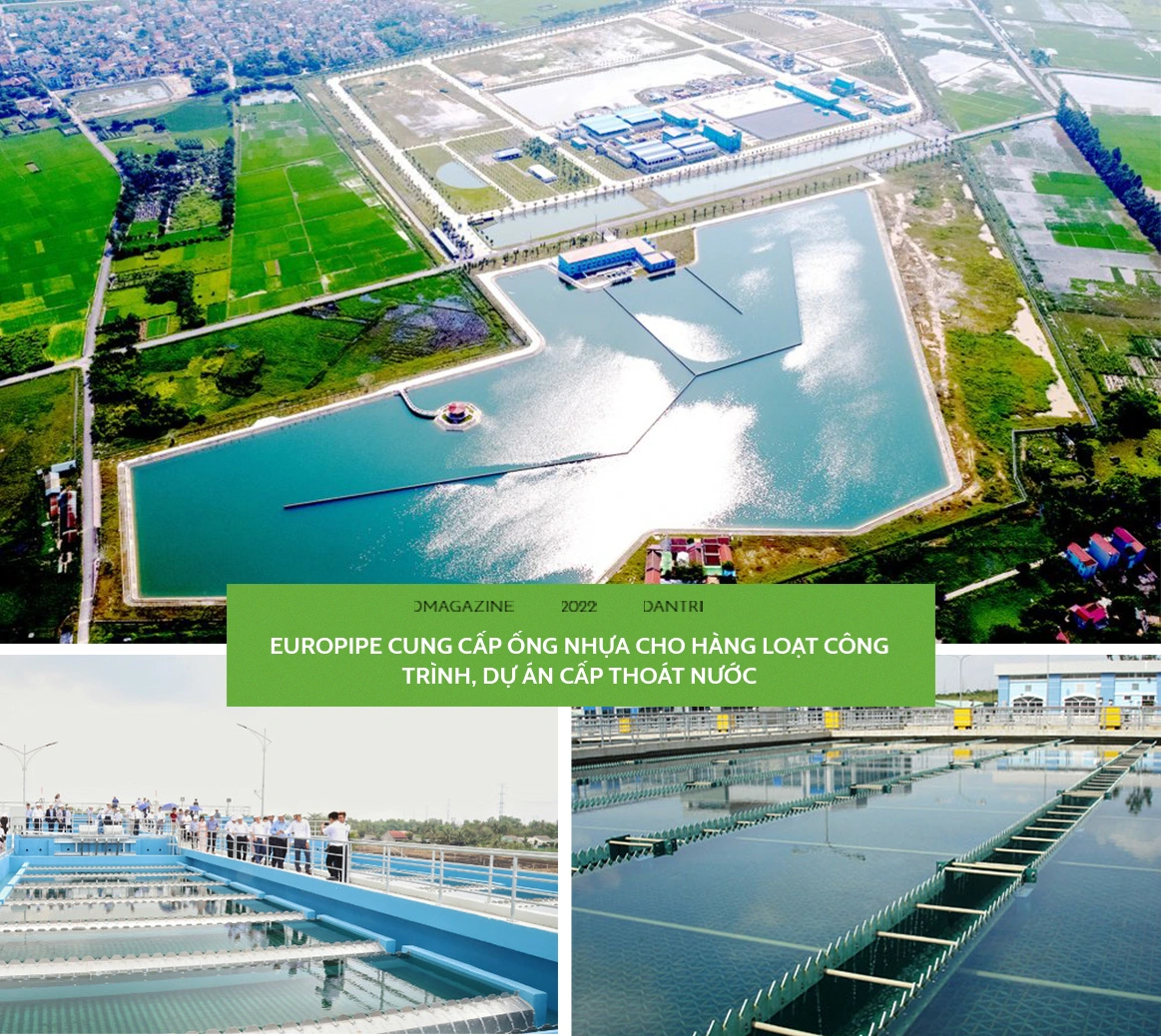 Thanks to its own mold workshop, EUROPIPE can "tailor" products for all projects, meeting the diverse needs of models and outputs of plastic pipes as well as electrical and plumbing accessories for common to special orders. , ensure the synchronization of pipes and fittings when installing. In particular, with the 1,200mm diameter plastic pipe, the company registered as one of the three rare suppliers in the Vietnamese market that produces large diameter pipes that meet European standards, meeting the needs of construction materials growing infrastructure of Vietnamese cities.
Not only ensuring the quality of plastic pipes, but EUROPIPE's copper threaded fittings also ensure copper content greater than 59%, but lead content is also limited to less than 2%, achieving certification to ensure hygiene and safety. complete food packaging thanks to its superior design and own mold factory. As a result, 100% of EUROPIPE pipes and fittings have sharp details, and high accuracy, perfectly overcoming the risk of leakage during use – a risk that any user is afraid to encounter. because it causes great damage in the long run to the project.

The quality assurance, variety of types, and synchronization between pipes and fittings are especially meaningful for the construction of high-rise buildings and urban infrastructure because if pipes and fittings are not synchronized, the investor and contractor Construction is very difficult when in the process of assembly but lack of accessories. At that time, one is without accessories, and the other is having to use another brand's accessories, which leads to having to repeat the process from searching, and browsing to quality control from scratch…, creating a cycle loop. complex and greatly affect the progress and quality of the project.
Bringing in the goal of customer-centricity, creating a perfect experience for Vietnamese users, along with a nationwide distribution system, 24/7 support service on online commerce platforms and website to support customers, plus a product warranty policy of up to 30 years, EUROPIPE has been chosen and trusted by many customers.
Gain quality trust from names like Vingroup, Sungroup, Geleximco, Ciputra, Novaland, BRG… or famous Vietnamese contractors like Delta, Hoa Binh, Ree, Hawee, Sigma, Coteccons, Central, Phuc Hung Holdings … EUROPIPE has contributed to the construction of a series of bustling and livable urban areas in the heart of the city. EUROPIPE's appearance in contracts with leading real estate developers in Vietnam, multinational corporations, or handshakes with foreign giants Samsung, Lotte, Hyundai, LG, Tokyu… confirms This Vietnamese plastic pipe brand has gradually replaced foreign brands thanks to its high-quality, superior warranty service and a wide range of products from basic to specific. Especially, EUROPIPE's large-sized plastic pipe products serve large water supply projects across the country such as Hanoi, Hai Duong, Quang Ninh, Thai Nguyen, Vinh Phuc, Da Nang, Thua Thien Hue, Quang Ngai, Thanh Hoa, Nghe An…are proof of the quality, professionalism, dynamism and top position of EUROPIPE brand in the market.