GET 1 SJC GOLDEN SHEET WHEN PURCHASING EUROPIPE
For more information click here.
The special promotion program in May and June 2021 is organized by EUROPIPE to accompany customers during this difficult period because of this epidemic.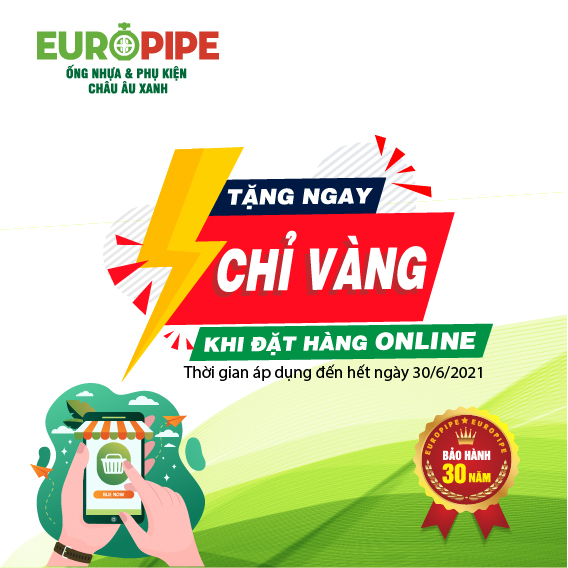 Just register to buy online this May, June with orders from 5 million, you will receive the corresponding gifts.
Conditions apply:
1, Customers register to buy goods online with orders of value:
5 million: Free 01 helmet and 01 EUROPIPE worker shirt
15 million: Free 01 20-63 welding machine worth 1,500,000 VND
40 million: Give away 100 USD worth 2,350,000 VND
80 million: Give 1 gold thread worth 5,220,000 VND
2, Products applied in the program: uPVC pipes and fittings (D<=200), PPR (D<=63), HDPE (D<=32)
3, Program application period: From 1/5/2021 to June 30, 2021.
Note: This program does not apply in conjunction with other promotions and supports. The gift is included directly with the qualifying order!
Program area:
1, Son La
2, Hanoi
3, Henan
4, Nam Dinh
5, Thai Binh
6, Ninh Binh
7, Thanh Hoa
8, Nghe An
9, Quang Tri
10, Hue
11, Da Nang
12, Quang Ngai
Time to participate in the program until the end of June 30, 2021
Register now at: https://by.com.vn/QzyOFd
Hotline: 0989 346 188
——————————————————-
EUROPIPE CO., LTD

(EUROPIPE)
Office: 2th floor, Vuon Dao Building, 689 Lac Long Quan, Phu Thuong, Tay Ho, Ha Noi
Factory: No. 3 National Road, Thuan Thanh Commune, Pho Yen District, Thai Nguyen Province.
Email: info@europipevietnam.com.vn
Website: www.europipevietnam.com.vn