Manufacturers of heat-resistant plastic pipes in Vietnam are "stretching" in the battle with the problem of counterfeit goods, imitation goods, and poor quality goods with a price of only 1/4.
Economic development and construction activities taking place more and more have pushed the demand for plastic pipes and accessories higher than ever. Never before has the domestic plastic pipe market been as vibrant as it is now. And never before, this market has become so "hot" when domestic manufacturers are having a headache because of the problem of counterfeit goods, poor quality goods with increasingly cheaper prices, and the level of counterfeiting. more sophisticated.
"The heat-resistant plastic pipe is a product that is favored by many people today because of its special features such as heat resistance, high-pressure resistance; not corrode even in high pH chemical environment; No leakage, no noise, no wear, no toxic, so it is very hygienic. More specifically, the tube has low thermal and electrical conductivity, so it is very safe and saves fuel for hot water systems. Normally, PPR heat-resistant plastic pipe products have a very long life, up to 50 years," said Mr. Nguyen Hoang Minh, Business Director of Euro Green Plastics Co., Ltd (EuroPipe).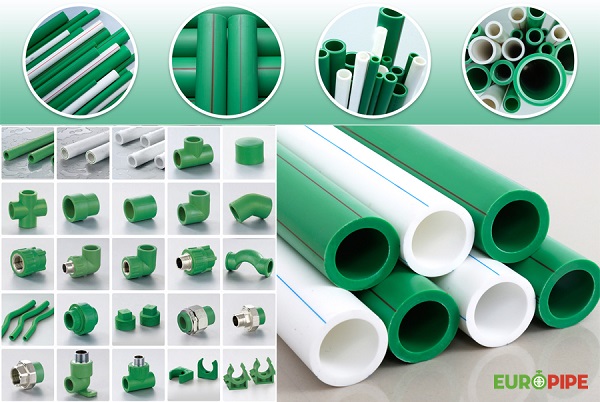 PP-R Pipes & Fittings (product of EuroPipe)
Market share of plastic pipes in Vietnam
In today's market, big brands and imported brands are not as dominant as before. Instead, new plastic pipe brands are together "gnawing" on the market share pie. With the same quality and a lower price of about 10-15%, Vietnamese brands are gradually taking the upper hand, making them more convenient, and user-friendly, and moving towards completely replacing imported goods.
As the EuroPipe heat-resistant plastic pipe made from Polypropylene Random material imported directly from the UAE & some Nordic countries, it can withstand heat up to 135 degrees Celsius, without heavy metal additives, and does not stick to dirt or be damaged. Contaminated by bacteria, copper content > 59%, and lead content < 2% are certified to ensure safe and hygienic packaging. The pipe is smooth, minimizing friction to create resistance to the flow. Durability up to more than 50 years.
This product has very high applicability in life and the economy. Pipes can be used to conduct hot and cold water; used in heating systems, central air conditioning systems; industrial fluid conductor transportation; used in irrigation agriculture; and industrial gas…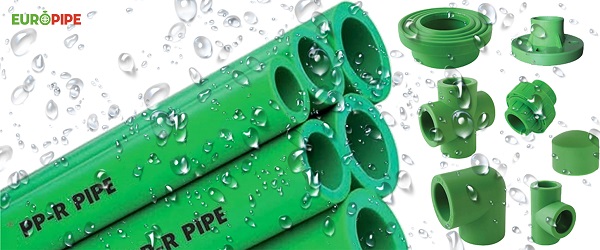 New plastic pipe brands are dominating the market share, including EuroPipe
Heat-resistant plastic pipe: Looks like a picture
To survive & develop, domestic brands not only compete fiercely with each other, but also face the problem of counterfeit goods, counterfeit goods, and poor quality goods at very low prices. Previously, only branded products were counterfeited. But now, just "sniffing" to see if a genuine product has just appeared on the market is a fake, imitation goods have appeared rampant.
For large projects, finding and choosing reputable plastic pipes & accessories is not difficult, because they often buy directly from the manufacturer. But for civil works or small consumers, this problem is not easy when even agents do business in a "snatching" style, deliberately selling mixed goods.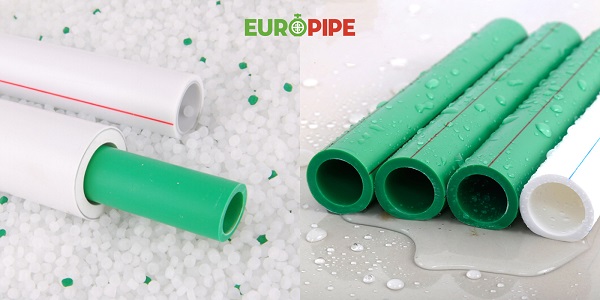 Shop for quality PPR heat-resistant plastic pipes to ensure your project
Regarding advice on choosing to buy heat-resistant plastic pipes for users, Mr. Nguyen Hoang Minh said: "Buying cheap plastic pipes is actually not cheap". If you choose poor-quality products, users will have to regularly repair them. Meanwhile, with the indoor pipeline system, the cost of repair and replacement also comes with many other related costs such as disassembly costs, installation costs, transportation costs, etc. In urban areas with mainly high-rise buildings, these costs are very high, making the cost of poor quality products "padded" many times.
According to Mr. Minh, in addition to the brand factor, consumers can also recognize product quality through their sensory eyes. Genuine heat-resistant plastic pipe products usually have standard and sharp colors; The plastic surface is smooth and beautiful, but it doesn't look "wild" like poor quality plastic pipe products.
MC (According to Cafe F)