EuroPipe is committed to improving the quality of products & care – warranty services to meet the increasing needs of customers while continuing to accompany and stand shoulder to shoulder with distributors – agents. across the country in all difficulties.
This is the promise and also the affirmation of Euro Green Plastics Co., Ltd (Member of AMACCAO Group) at the Conference of Gratitude to NPP – loyal customers in the Thai Binh area that took place in September 28th/ 2018 past.
Customer appreciation conference – Thai Binh regional partner is a practical activity of EuroPipe in this year's customer gratitude month. Not only Thai Binh, but EuroPipe also organized customer gratitude conferences across all three regions of the country. From the very first day of its establishment, EuroPipe has always been determined to innovate its thinking in production and business towards professionalization and modernization; At the same time, in the past time, there have been great strides in the application of technology to create maximum convenience, reduce time, effort and cost for customers using plastic pipes and commercial accessories. EuroPipe brand.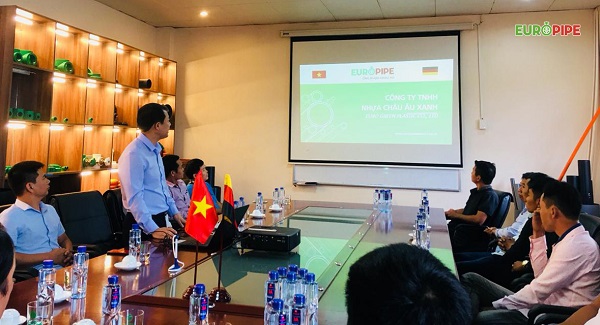 Mr. Nguyen Van Vinh – General Director of EuroPipe shared at the Conference
In addition, the Company's employees also constantly change their working style, with friendly and increasingly professional behavior towards partners – customers.
At this conference, Mr. Nguyen Van Vinh – General Director of Euro Green Plastics Co., Ltd. thanked loyal customers as well as distributors and agents in Thai Binh who have accompanied during the past time. , not afraid of difficulties but stick with, overcome the most difficult periods, support and contribute to the development of the Company.
"This conference is both an opportunity for EuroPipe to appreciate the cooperation and help of customers in the past time, as well as a place to listen to comments and exchanges from customers so that the Company can serve better and better. more. EuroPipe will constantly strive in customer service in the direction of ensuring transparency and for the benefit of customers, to provide the best quality and service" – Mr. Nguyen Van Vinh – General Director EuroPipe said.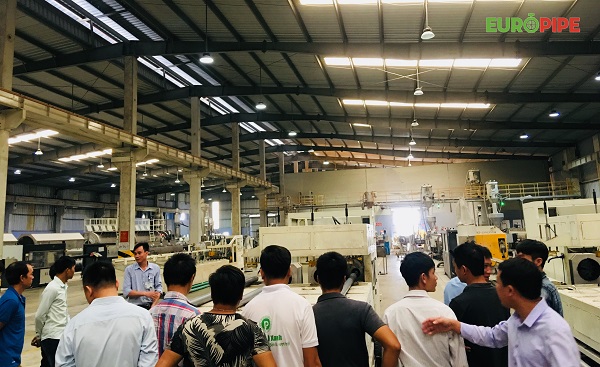 Customers can visit directly at EuroPipe factory pipe & fittings factories in Pho Yen – Thai Nguyen industrial cluster.
Sharing at the conference, Mr. Doan Van Khiem – a customer representative in Thai Binh shared: "I appreciate EuroPipe's efforts in improving quality and innovating product designs to meet demand. market, especially always listen and care about the wishes of customers. Compared to other strong brands, EuroPipe plastic pipes & fittings, although newly born and developed, has really delivered better quality than expected."
The EuroPipe brand has developed as it is today thanks to the great support and support of all distributors, agents, and customers. In 2018, EuroPipe received great attention from distribution systems, agents, and regional stores nationwide, sharing difficulties and supporting to overcome the unstable period of the economy. economy and achieved impressive sales milestones.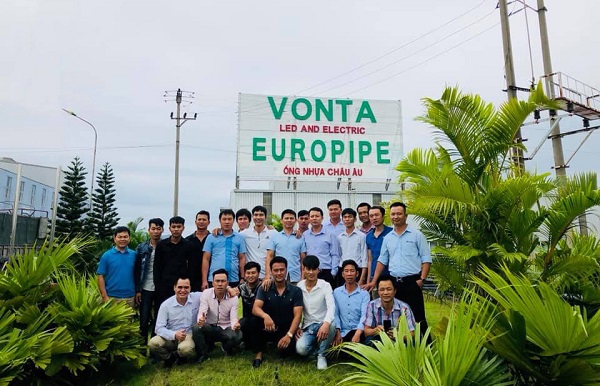 Customers take souvenir photos when visiting Pho Yen Industrial Complex – Thai Nguyen
Taking place in parallel during the conference, in addition to sharing information about products, technical staff also conducted testing of PPR pipe welding, answered questions of contractors, and let everyone try and create space. close, friendly atmosphere. After that, the company brought customers down to visit the factory producing plastic pipes & accessories, visit the historical site of Soc temple – Soc Son (Hanoi).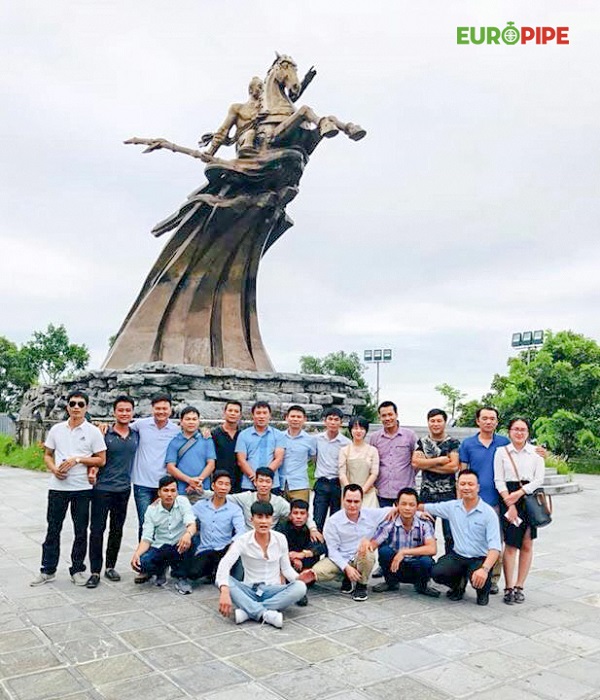 Visit the Soc Temple relic – Soc Son (Hanoi)
With the mission: "Consumer's benefit is the development goal of EuroPipe", the company always strives to provide consumers with high-quality products according to European standards, towards building service Professional, friendly and enthusiastic customer service. With regular and thorough customer care activities, EuroPipe wishes to better fulfill its business goals and tasks to return the trust of consumers and become a close friend of all customers.
MC.