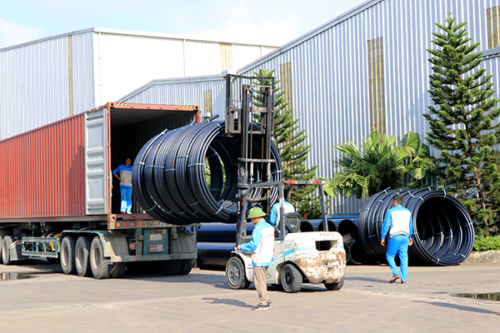 | | |
| --- | --- |
| Project | PLASTIC PIPE SUPPLY PROJECT IN HONG KONG |
| Inventor | Linksshape company. |
| Address | Hong Kông Country |
| Role | Exporting plastic pipes to Hong Kong |
From October 3 to 5, 2022, the European green plastic pipe factory EUROPIPE packed enough goods into containers of HDPE pipe products for export to Hong Kong.
According to the customer's share, a representative of Linksshape company, this order has special requirements for raw materials to produce new plastic pipes that meet the strict standards of the Hong Kong market. It must be a clean, primary, and clear source of raw materials. EUROPIPE uses all 100% virgin plastic beads imported directly from the UAE to produce its plastic pipe products. In addition, a system of modern production lines and machines operated by experts from Europe is also considered an important condition to help EUROPIPE become this first choice.
This is not the first time EUROPIPE's products have been exported, which further confirms the prestige, quality, and position of the European green plastic brand EUROPIPE.