Quotation of EUROPIPE plastic pipe – Europipe plastic pipe is a product manufactured and distributed directly by Euro Green Plastic Co., Ltd. EUROPIPE has a wide range of different product lines such as PPR, uPVC, HDPE plastic pipes, which have good heat resistance, strength, no corrosion, electrical conductivity, low thermal conductivity, long life, and are marketed in the world. and used abroad.
European plastic pipe Europipe
The production process meets European standards
Euro Green Plastic Co., Ltd (EuroPipe) – a member of AMACCAO Group – is always proud to be the leading unit in the field of manufacturing plastic pipes and plastic pipe fittings that meet European standards.
Wishing to bring customers the best quality products, the most perfect service, EuroPipe focuses on investing in factories located in Pho Yen industrial clusters (Thai Nguyen), modern equipped machinery system imported directly from the Federal Republic of Germany. EuroPipe's engineering team is experienced, well-trained by foreign experts.
Europipe plastic pipe products use 100% raw materials imported from the United Arab Emirates and some Nordic countries. The copper content index is over 59%, lead content is less than 2%, certified to ensure safe and hygienic packaging.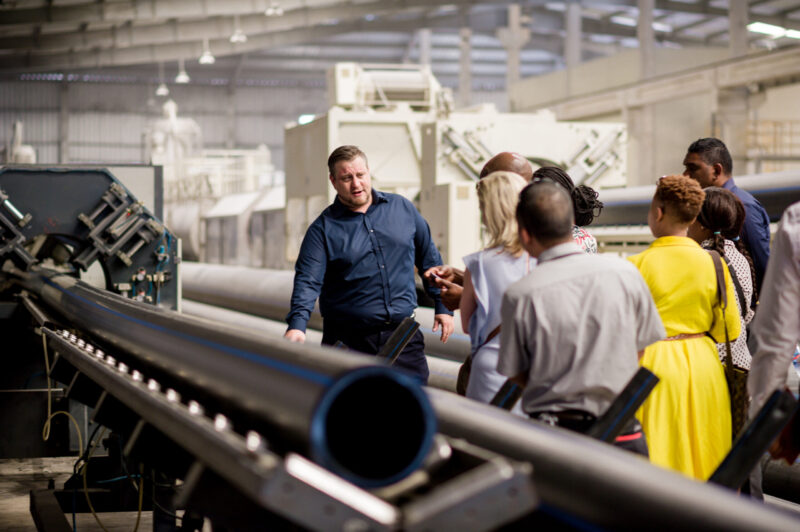 Máy móc sản xuất hiện đại
In particular, all EuroPipe plastic pipes and fittings are produced synchronously, in large quantities, and can be manufactured according to customer's order requirements with diameters from 20 – 1200mm.
Product variety, quality, to meet the needs of use
Currently, the company is focusing on manufacturing and developing plastic pipe products including:
PPR plastic pipes: Sizes from DN 20mm to DN160mm, available in two colors white and blue. The advantages of EuroPipe PPR plastic pipes are high heat resistance, good heat retention ability, low installation cost, stable working performance, long life.
HDPE plastic pipes: Production sizes can be from DN 20mm to 1200mm, black with blue lines (specialized for water), or brown and yellow striped plastic pipes (specialized for air conduction). The advantages of EuroPipe HDPE pipes are that they do not contain heavy metals, are dust-free, and are not electrochemically reacted by acids, alkalis, or salts. Moreover, HDPE pipes are easy to roll, bend, easy to install, and have a long service life.
uPVC pipes: European Green uPVC pipes (EuroPipe) are manufactured according to the standards of TCVN 6151-2: 2002/ ISO 4422-2:1996, TCVN 8491-2:2011/ ISO 1452-2:2009. The advantage of the product is that it is light, easy to transport and install, has a small friction system, so it has good drainage, does not rust, does not contain toxic chemical components, and is reasonably priced with common needs. now.
Quotation of EuroPipe plastic pipe – Green Europe plastic pipe
EuroPipe is a unit that directly imports raw materials and produces domestically, products that meet European quality standards, competitive prices, completely meet bulk orders, single projects, construction works. labor.
EuroPipe brand plastic pipes have participated in a series of big projects such as FLC Golf Course Ha Long, Bac Kan town water supply & sanitation project, Thai Binh thermal power plant project, Thai province clean water project Nguyen, a clean water project in Thua Thien Hue province…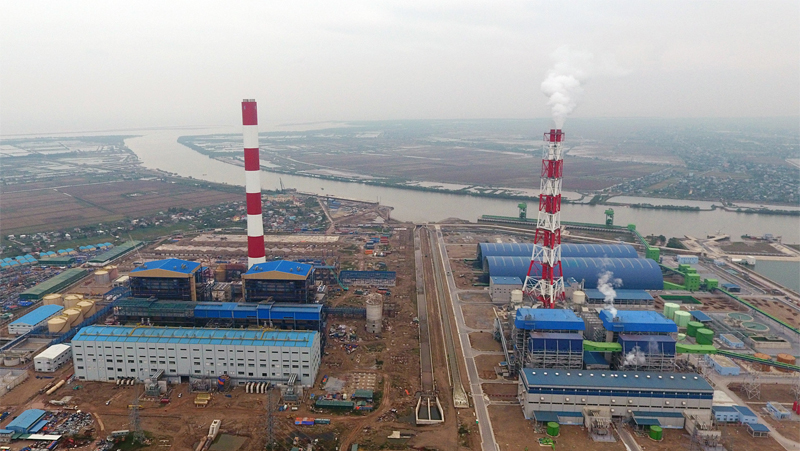 Thai Binh Thermal Power Plant Project
In addition, European Green plastic pipe products have a network of distribution agents throughout the country, which is always trusted by customers.
For advice and support, to receive a detailed quote for EuroPipe plastic pipes and accessories, please contact:
EUROPIPE CO., LTD
Office: 2th floor, Vuon Dao Building, 689 Lac Long Quan, Phu Thuong, Tay Ho, Ha Noi
Factory: No. 3 National Road, Thuan Thanh Commune, Pho Yen District, Thai Nguyen Province.
Email: info@europipevietnam.com.vn
Website: www.europipevietnam.com.vn