In order to provide Vietnamese consumers with European-quality plastic pipe products, replace imports, and retain dollars for the country, EUROPIPE has strongly promoted the development of its distribution system nationwide.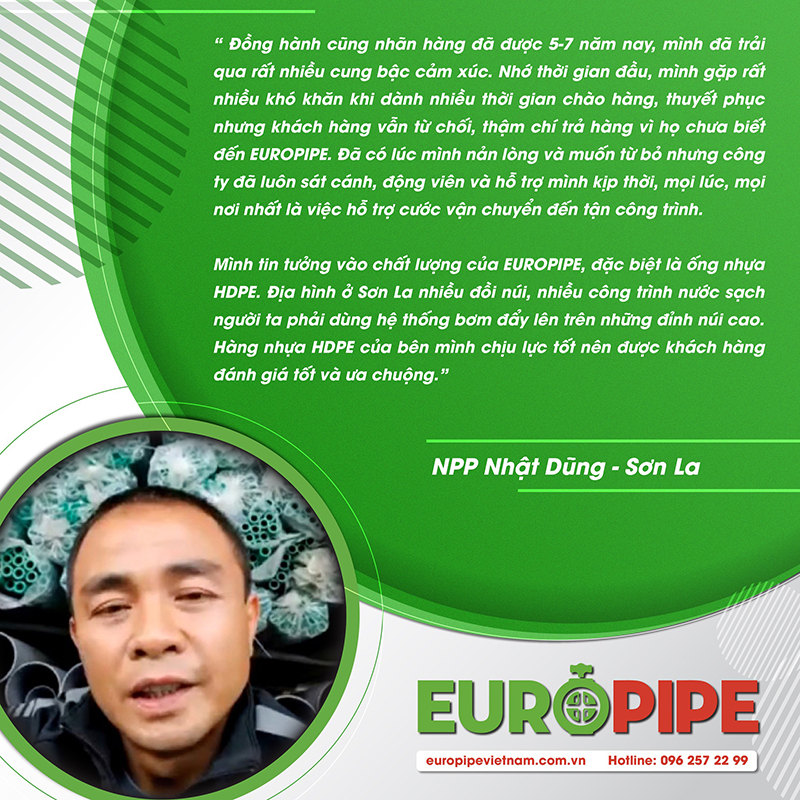 EUROPIPE's distribution system chain
After only a few years of development, EUROPIPE has made a breakthrough not only in its brand name but also in its extensive distribution system, helping to give customers the opportunity to consume international standard plastic pipe products that are very suitable for consumers. Vietnamese consumption.
Currently, EUROPIPE owns hundreds of distributors and agents spread throughout the provinces and cities of the country.
Sharing from distributor Nhat Dung in the Son La market
"Being with the same brand for 5-7 years now, I have experienced a lot of emotions. Remember the first time, I had a lot of difficulties when I spent a lot of time offering and persuading but customers still refused or even returned the goods because they did not know about EUROPIPE. There was a time when I was discouraged and wanted to give up, but the company has always stood by, encouraged, and supported me in a timely manner, anytime, anywhere, especially the transportation to the construction site.
I believe in the quality of EUROPIPE, especially HDPE pipes. The terrain in Son La is hilly, many clean water works have to be pumped up to the high mountains. Our HDPE products have a good bearing capacity, so they are well appreciated and favored by customers."
Video link: https://www.youtube.com/watch?v=0YMrpt3F1pc&t=169s
See more: https://europipevietnam.com.vn/chia-se-cua-npp-nhat-dung-son-la-khi-hop-tac-cung-europipe-2363.html/