Intending to develop and do business responsibly to the community & society, EuroPipe Plastic Co., Ltd – EuroPipe (Member of AMACCAO Group) is proud to be the most modern enterprise in Vietnam operating in the field of produce environmentally friendly plastic pipes & fittings, European quality standards.
EuroPipe towards green business development
Green economic development and green growth are issues of particular importance to the Party and State. Resolution 35 of the Prime Minister on supporting business development raises the issue that businesses must build ethics and corporate culture, comply with the provisions of the law in a protected environment because they do not develop. Cell business that views the environment gently.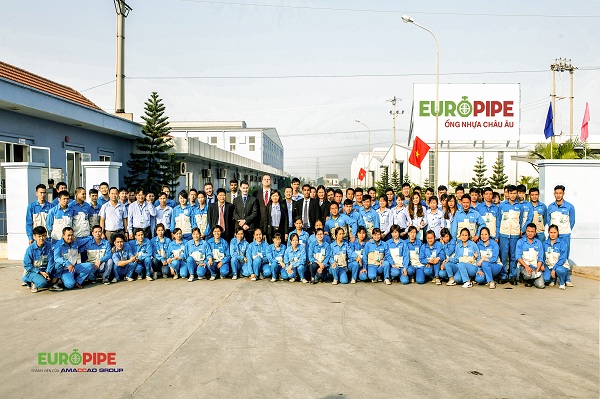 Although just appearing in the market of producing plastic pipes & accessories for 6 years (since 2013), there are still many difficulties and limited resources, but the Board of Directors of Euro Green Plastics Co., Ltd. has always paid attention. The idea of ​​gravity promotes development in association with the protective environment. The company actively and actively implements the green growth strategy, develops material reuse, fuel-saving solutions … with many possible programs and projects.
Thai Nguyen Province – A stepping stone for development
EuroPipe plastic pipe & fittings factory is located right on Km 35 – National Highway 3 in Thuan Thanh commune – Pho Yen town – Thai Nguyen province. This is the location of the way of the south of the province, next to the capital Hanoi, a favorable geographical location with a synchronous transportation system including railways, waterways, and roads (Highway). Hanoi – Thai Nguyen, National Road 3) and is also an important position in the process of integration and socio-economic development of the locality.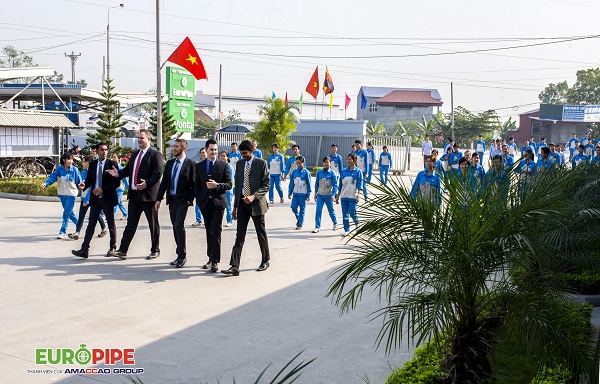 EuroPipe factory ensures green environment – environmentally friendly
Moreover, in recent years, with the attention and investment of the State, along with the dynamic and scientific way of operation and management of leaders at all levels, Pho Yen town has made breakthrough developments. on socioeconomic. Infrastructure and facilities are becoming more and more modern, the health and education network is interested in investing in the direction of meeting national standards and improving quality; People's lives are constantly improved, political security is maintained.
Those are all favorable factors for enterprises such as Euro Green Plastic Co., Ltd. stationed in Thai Nguyen province.
Breakthrough and different EuroPipe
As a joint venture company specializing in the production of plastic pipes & fittings, EuroPipe currently owns the latest, most advanced, and modern machinery and equipment in Vietnam, especially the extrusion system imported from Battenfeld Cincinnati – Germany's leading company in manufacturing technology for pipes and fittings.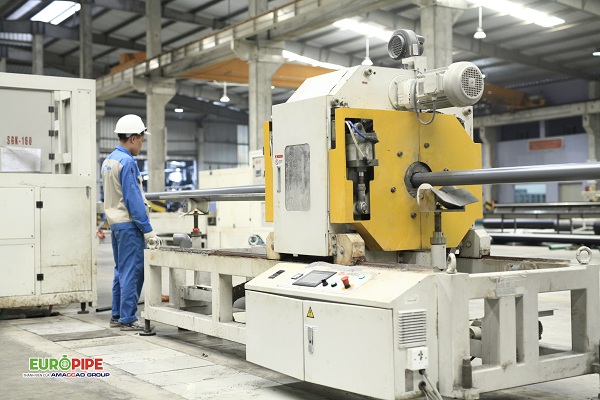 EuroPipe invests in modern machinery and equipment system
All input materials of EuroPipe are imported from the UAE, some Nordic countries and are an environmentally friendly source of raw materials, which are not harmful to the health of consumers, ensuring the quality for consumers. each product. Copper thread details are manufactured with copper content > 59%, lead content < 2%, certified to ensure food hygiene and safe packaging for clean water.
In particular, EuroPipe plastic pipe & fittings factory is operated and quality controlled by leading European engineers with deep expertise, rich experience, gathered a large number of good engineers along with the team. technical staff, skilled workers.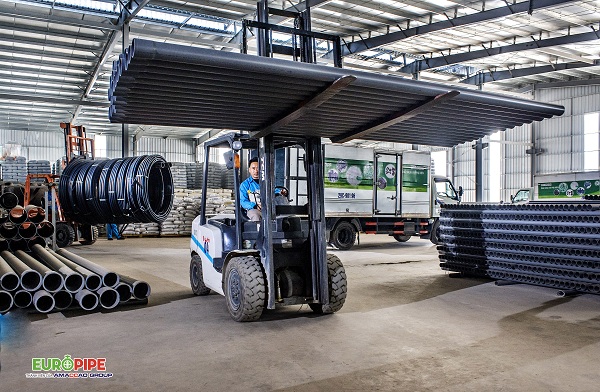 Warehouse of uPVC pipes at EuroPipe. factory
"EuroPipe plastic pipes & fittings always ensure the quality of international standards, high safety and competitive prices with imported goods, capable of satisfying the needs of the most demanding customers. indifferent industries and sectors. With quality, breakthrough service and difference, EuroPipe commit to product warranty for more than 30 years", emphasized Mr. Jonas Paul Danielson, Business Development Manager, EuroPipe Plastics Co., Ltd.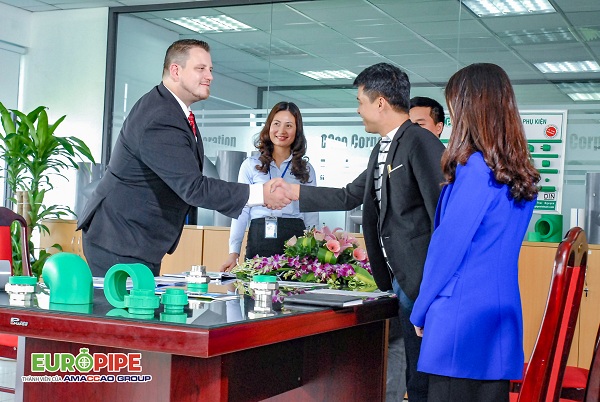 Jonas Paul Danielson, Business Development Manager, Euro Green Plastics Co., Ltd in a meeting with partners at the head office
Currently, EuroPipe has a system of factories and workshops located in Pho Yen Industrial Cluster (Thai Nguyen), one of four key industrial clusters of AMACCAO Group and one of three Vietnamese enterprises that can manufacture pipes. plastic & accessories with a large diameter of up to 1200 mm. With strong production capacity and competition, EuroPipe has won the trust of many large domestic and foreign partners and customers such as Sam Sung, Hyundai, Posco, Daewoo E&C, Vingroup, FLC Group, Sungroup, BRG Group, Hai Phat Invest, Sao Mai Group, Hoa Phat Group, Viettin Bank, Hawee, Contecons, UDIC, Hoa Binh Group, Hancorp…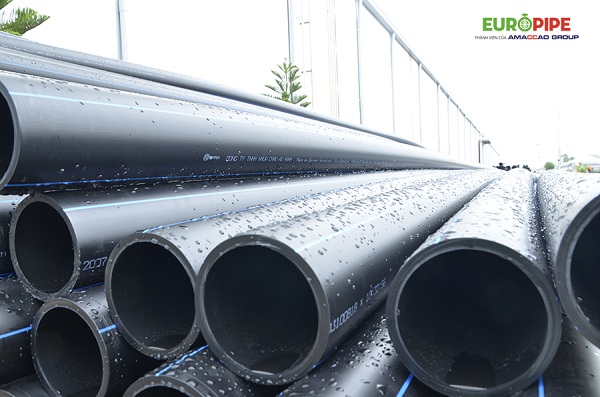 EuroPipe brand HDPE pipes are highly appreciated in the market
However, green economic development and green growth still have many problems, the most important of which is the perception of the content of the green economy and green growth. Therefore, EuroPipe's Board of Directors from the beginning set out strategies and solutions for each stage of the Company's development to ensure green and sustainable development goals. In parallel with the process of innovating the growth model, applying high technology and modern machinery, EuroPipe especially invests in the human factor because it is an important and decisive factor for green development. sustainable as the goal set by the Board of Directors from the beginning.
Talking about the development plan shortly, Mr. Jonas Paul Danielson shared: "EuroPipe will continuously improve technology, equipment system, modern machinery, continue to improve knowledge and skills for the team. engineers, skilled workers, aiming to improve production efficiency. Besides, EuroPipe's team of experts – engineers continue to research, develop and launch many new product lines with breakthrough features; to increase product distribution to the southern market and expand the export of products to international markets. EuroPipe will coordinate with Pho Yen town in particular and Thai Nguyen province, in general, to contribute to the construction and socio-economic development of the province.
MC.