Construction newspaper, Vietnamnet reported on AMACCAO's booth at the exhibition in Thai Nguyen.
At the exhibition displaying products to celebrate the establishment of Pho Yen City (Thai Nguyen), AMACCAO Group's booth impressed many visitors thanks to a series of outstanding products from brands EUROPIPE, AVIA, VONTA.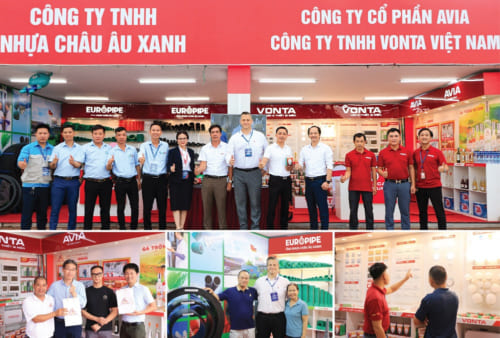 The exhibition of booths displaying products of various industries is held throughout the 3 days of the event from October 7-9, 2022. The organization of the exhibition aims to promote trade promotion activities in the province, support enterprises to promote production and business, develop markets, find partners, promote and consume products; create business opportunities. Which, AMACCAO Group has Pho Yen industrial cluster located in Pho Yen city, Thai Nguyen.
According to the representative of AMACCAO Group, the group and EUROPIPE Plastic Co., Ltd. are proud to have contributed a part of their efforts and always accompanied the development of Pho Yen city in particular and of localities across the country. In general, where there are factories, member units of AMACCAO Group are operating and investing.
The booth of AMACCAO Group is specially designed and impressive to welcome thousands of visitors in the province and surrounding areas to visit. Not only outstanding in design, AMACCAO's booth was also impressed by the large number of visitors and product experiences. There are 3 units of the Group participating in the exhibition, including: EUROPIPE plastic pipes and fittings; Led lights and VONTA electrical equipment; AVIA drinks. Each of these businesses has products with its own strengths.
First, the EUROPIPE booth made a strong impression at the exhibition when displaying a full range of plastic pipes and accessories for the water supply and drainage industry such as HDPE, PPR, uPVC pipes, electrical conduit, telecommunication cable pipes… In particular, EUROPIPE has a large diameter HDPE pipe product line D900 – D1200 with high pressure level PN16 – a rare product line in Vietnam.
EUROPIPE plastic pipes and fittings are produced synchronously on modern technological lines imported from Germany's Battenfeld-Cincinnati company. Not only diverse in types, EUROPIPE plastic pipes and fittings are also impressed by their high quality according to European standards and product warranty policy up to 30 years.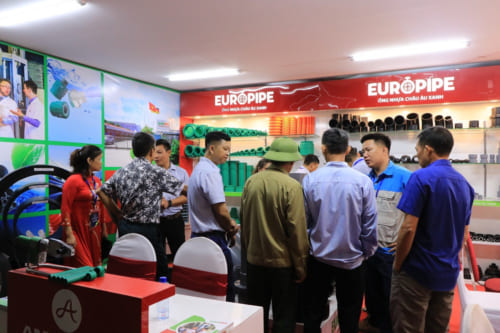 Visiting VONTA's booth in Pho Yen, customers can directly experience LED products and electrical equipment with meticulous guidance and advice from factory engineers and trade representatives in the Thai Nguyen area.
VONTA's products are highly appreciated for their friendliness in use; meeting European quality standards, satisfying the needs of aesthetics, and durability; a variety of models, and are suitable for customers' tastes. The diverse range of products that VONTA brings to the exhibition includes Switches, sockets; extension sockets, holders, plugs; LED lighting); Aptomat and circuit breaker; ventilation fans, wall cabinets, and conduit… With the variety of products mentioned above, VONTA ensures to meet all the needs of electrical equipment for all projects, from houses to apartments, shopping malls, or buildings.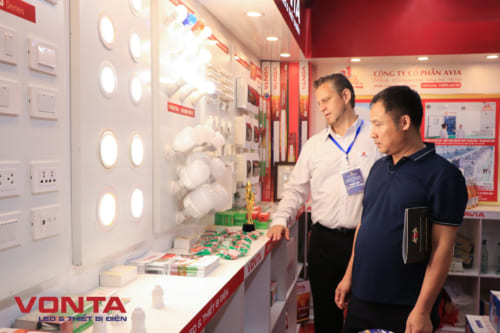 One of the stalls that attract a large number of visitors is AVIA. Prominent in the middle of the exhibition is the trade booth displaying 3A pure water and the high-class An Nam Rooster brand products. The products are enjoyed by visitors and have good feedback on their quality. Some customers said that AVIA 3A pure bottled water has a sweet and cool taste like natural rainwater, different from normal products.
Through the exhibition, AVIA also had the opportunity to promote the new interface with the logo including the image of An Nam Rooster, the sunshine symbol, and the word AVIA instead of the simple logo consisting of the letter A in the background circle. red with AVIA text as before.